Mirdif Hills, Mirdif
HIGHLIGHTS
About Mirdif Hills
Mirdif Hills, Dubai is a master development in Mirdif. Located on Sheikh Mohammed Bin Zayed Road near Mushrif Park, this mixed-use project is developed by Dubai Investments Real Estate Company (DIRC), the creative genius behind the grand Dubai Investments Park (DIP). Mirdif Hills is the only freehold project in Mirdif featuring a mix of residential, commercial, and retail properties spread across three distinguished blocks. The master plan was launched in 2008 and relaunched in 2014 with an announcement to accommodate a four-star hotel with 116 rooms, a hospital with over 200 beds and around 1,500 residential apartments.
Janayen Avenue, Nasayem Avenue and Multaqa Avenue together form the master plan of Mirdif Hills, Dubai. These low-rise apartment buildings have several shops, retail outlets, coffee bars, restaurants and community facilities on the ground floors. Handovers have already started, especially for the apartments in the central block.
IN A NUTSHELL
Type of building:

Mixed-use

Location:

Mirdif

Developer:

Dubai Investments Real Estate Company

Date of completion:

2020

Number of units:

  1,500+ apartments, 116 hotel rooms, 128 serviced apartments

Unit type:

2 and 3-bedroom apartments, 3 and 4-bedroom duplexes

Type of Ownership

: Freehold

Amenities:

Gym, swimming pool, kid's pool, Jacuzzi, medical centres, hotel, supermarkets, restaurants, cafes and coffee shops, community centre, recreational facilities, children's play area
BUILDING DETAILS
Facilities in Mirdif Hills
Overall, all three developments in Mirdif Hills will have a range of exciting facilities. These include covered walkways, lush gardens, swimming pools, children's play areas and community facilities. Residents will find a gym, a nursery, and a clinic as well.
Parking
Spaces for parking in Mirdif Hills are allotted in the basement. Guest parking is also possible.
Elevators
There are four elevators in Mirdif Hills building.
Security, Central Air-Conditioning and Maintenance Services 
Round-the-clock security in the Mirdif Hills project is provided by trained security staff and CCTV cameras. Empower provides district cooling services. Residents can also enjoy uninterrupted broadband internet, satellite/cable TV connection and intercom facility.
Gym and Fitness Facilities 
As for fitness facilities, one can find temperature-controlled swimming pools and a gym in Mirdif Hills.
Lifestyle Amenities
Mirdif Hills, Dubai is a self-sufficient community. Apart from a hospital in Multaqa Avenue, the residential complexes also have a medical facility to deal with emergencies. There is a play area for kids on the ground floor of Janayen Avenue. It also offers daycare services and playschool for toddlers.
Concierge and Guest Services 
All three complexes have on-site maintenance along with a 24-hour concierge.
Mirdif Hills Floor Plans 
Residential apartments in Mirdif Hills are based on different floor plans. Bayut has worked on creating simple 2D and 3D formats for Mirdif Hills floor plans. You can easily view the apartment and unit type you're interested in on the website.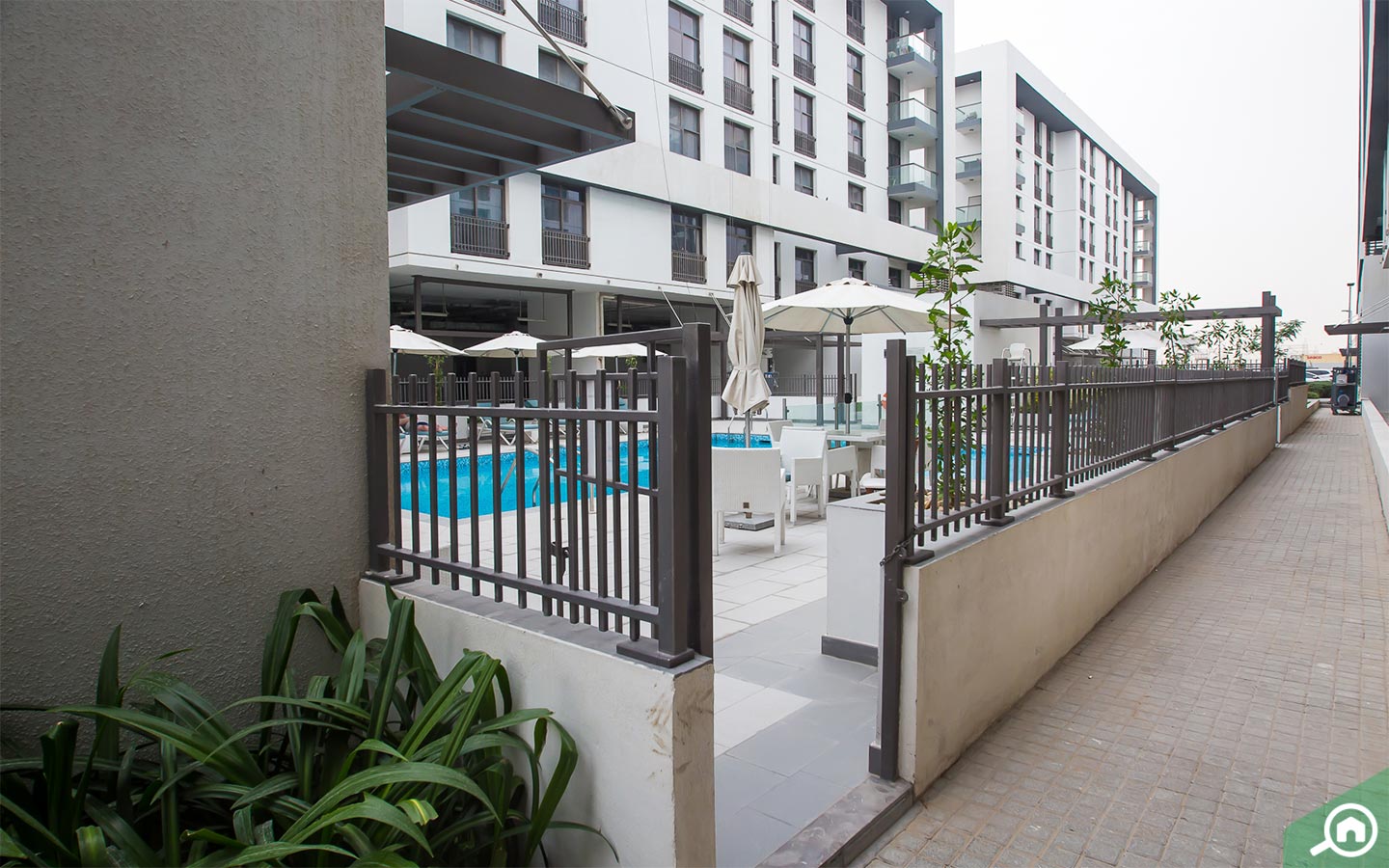 Apartment Types in Mirdif Hills
First, Janayen Avenue is an all-residential area with 359 units hosting a variety of modern living spaces. The built-up area of properties in Janayen Avenue ranges from 1,400 sq. ft to 3,300 sq. ft. Apartments on the ground floor have a private entrance, a private garden and offer spectacular views of Mushrif Park. Residents will find walkways and the swimming pool in proximity.
Nasayem Avenue is located right in the centre of Mirdif Hills and is primarily residential. Similarly, Multaqa has a mix of hotel rooms,  serviced apartments, restaurants, cafes and retail spaces. 
Janayen is purely residential with 1 to 3-bed apartments and 3 to 4-bedroom duplexes. Nasayem Avenue, the central part of the project, is also primarily residential, consisting of a mix of 2 to 3-bedroom flats and 3- and 4-bedroom duplexes. Whereas, for Multaqa Avenue, Millennium Hotel and NMC Hospital are the highlights. This plot is all commercial yet features around 300 residential units, mainly studio flats and 1-bed apartments, which presently are under construction. All three complexes are carefully crafted with ultra-modern fittings.
Studio Apartments in Mirdif Hills
Studio apartments are part of Multaqa Avenue and span 300 sq. ft. These units have a dedicated storeroom, a well-fitted bathroom and an open-concept kitchen. Apart from a large living area, some apartments also feature private gardens.
1-Bedroom Apartments in Mirdif Hills
1-bed apartments are usually found in Janayen Avenue ranging from 947 sq. ft. to 1,066 sq. ft. These properties feature an American kitchen, a spacious bedroom with an en-suite bathroom and a guest bathroom. There is a dedicated storage space and a large living room.
2-Bedroom Apartments in Mirdif Hills
2-bedroom flats are in abundance, spanning 1,263 sq. ft. to 2,137 sq. ft. Some units have a balcony facing Mushrif Park and the main road. With two spacious bedrooms and a hall, a modern kitchen and up to three bathrooms, these apartments are ideal for families, couples or individuals. Moreover, 2 BHK flats are based on different floor plans so you get a wide variety to choose from. If you fancy living closer to nature, you can choose a 2-bedroom apartment with a private garden in Mirdif Hills. Some units also have a dedicated space for laundry.
3-Bedroom Apartments in Mirdif Hills
3-bed flats are usually found in Janayen and Nasayem Avenue. Covering 1,568 sq. ft. to 2,440 sq. ft., these apartments are ideal for a mid-size family. Apart from three master bedrooms and en-suite bathrooms, these units have a dedicated storeroom, a maid's room, guest bathroom and a large living hall. Some units feature a large balcony with enough space to adjust a coffee table for two.
Duplex Units in Mirdif Hills
The first two blocks of the development feature large and luxurious duplexes with three to four bedrooms. These units cover an entire or half floor. Furthermore, duplexes in Mirdif Hills feature a spacious floor plan, contemporary architecture and ultra-modern interiors. The covered area for 3-bedroom duplexes ranges from 2,530 sq. ft. to 3,162 sq. ft., while those with four bedrooms range between 2,687 sq. ft. and 3,465 sq. ft.
Most Popular Apartment Types in Mirdif Hills
Studio
1-Bed
2-Bed
3-Bed
4-Bed
Based on searches conducted by users on Bayut.com over the past 6 months
2-bedroom apartments in Mirdif Hills are the most popular bed types. 3-bed units are the second most popular type, followed by the studio, 4-bed and 1-bed units on the third, fourth and fifth spot.

Rental Trends in Mirdif Hills
Among many choices for rental apartments in Mirdif, those in Mirdif Hills are pretty new. Hence, the cost is slightly higher. Those with mid to high annual incomes can quickly get an apartment for rent in Mirdif Hills. Here are the rental trends:
Those looking to move to bigger units like 3 or 4-beds duplexes can expect to pay around AED 100k+ per annum.
Sale Trends in Mirdif Hills
The selling price of apartments in Mirdif Hills is slightly higher than other apartments for sale in Mirdif. This is because there's a wide variety of apartments with larger living spaces, and the overall property value is much higher. 
Similarly, the price of 2-bedroom apartments for sale ranges from AED 1.4M to AED 2.1M. If you are interested in buying 3-bedroom flats in Mirdif Hills, prepare to fork out around AED 1.6M to AED 3.1M. Last, luxurious 4-bedroom apartments for sale are valued at AED 2.3M to AED 3.4M.
NEARBY AMENITIES
Transportation near Mirdif Hills
Talking about public transportation near Mirdif Hills, residents can use RTA buses or the metro.
Bus Stations near Mirdif Hills
There are several bus stations near Mirdif Hills at short intervals. These include Mirdiff, 47th Street 3 served by F03 within walking distance.
Metro Stations near Mirdif Hills
Centrepoint Metro Station on the Red Line of Dubai Metro is only 8 minutes away.
Restaurants near Mirdif Hills
Restaurants near Mirdif Hills include:

Aljood Mandy Restaurant 

Texas Redhouse 

Al Arab Restaurant
Those who like fast food can drive to:
Jimmy's Shack Burger

Pizzaro

Freedom Pizza
There's a special sushi bar in Mirdif City Centre, a must-visit for all sushi lovers. You can reach there in 11 minutes depending on the traffic.
Supermarkets near Mirdif Hills
Big Way Supermarket at the end of the street is accessible within a minute. Other supermarkets near Mirdif Hills include:
Spinneys Express

Aswaaq Supermarket

West Zone Supermarket 
All these options are on 83rd Street and accessible within a few minutes by car.
Nearby Buildings
Mirdif Tulip
Mirdif Shorooq
Mirdif Hills is an expansive complex. Next to the project is an apartment building, Mirdif Tulip. Also, Shorooq is another sub-district with many low-rise apartment buildings.
Major Landmarks
Mushrif Park is the biggest landmark near Mirdif Hills. In fact, it lies adjacent to the project. Apartments in the community also enjoy views of the park from the balconies. Other notable developments in the vicinity include:
Gallery Arabesque

Arabian Center
Another important landmark is the Millennium Hotel – the focal point of Multaqa Avenue with direct access to Mushrif Park.
THINGS TO CONSIDER
Apartments in Mirdif Hills are a bit pricey compared to other properties in the city. However, the selling prices are justified considering the amenities on offer, the project location and the fact that the units are brand new.
Share on whatsapp