Last updated date:

Thu, 18 Aug 2022 11:13:29 GMT
1900000 to 60000000

AED
Marina Residences 4, Marina Residences, Palm Jumeirah, Dubai

Apartment

VACANT || Pool level D Type || Key with Me

Balqis Residence, Kingdom Of Sheba, Palm Jumeirah, Dubai

Villa

VACANT on Transfer | Upgraded Beach Front Villa

Signature Villas Frond M, Signature Villas Palm Jumeirah, Palm Jumeirah, Dubai

Villa

Very High Number | Upgraded | Must See

Marina Residences 2, Marina Residences, Palm Jumeirah, Dubai

Townhouse

Beautifully Upgraded | Stunning View | 2 x Garage

Al Hallawi, Shoreline Apartments, Palm Jumeirah, Dubai

Apartment

3 Bed + Maids | Sea Views | Vacant On Transfer

The Palm Tower, Palm Jumeirah, Dubai

Apartment

Brand new | Sea View |Vacant| Palm Jumeirah

Diamond, Tiara Residences, Palm Jumeirah, Dubai

Apartment

VACANT | 2 Car Park Spaces | Keys with Me

Al Habool, Shoreline Apartments, Palm Jumeirah, Dubai

Apartment

New Listing | 2 Bedroom | Vacant November

Jash Hamad, Shoreline Apartments, Palm Jumeirah, Dubai

Apartment

Fully Upgraded | 3 Bed | Vacant On Transfer

Marina Residences 6, Marina Residences, Palm Jumeirah, Dubai

Apartment

Extended Terrace | Marina Views | Tenanted

Marina Residences 6, Marina Residences, Palm Jumeirah, Dubai

Apartment

Royal Atlantis | Large Terrace | Notice served

Garden Homes Frond E, Garden Homes Palm Jumeirah, Palm Jumeirah, Dubai

Villa

Central Rotunda | 4 BR + Maid | Vacant

Signature Villas Frond K, Signature Villas Palm Jumeirah, Palm Jumeirah, Dubai

Villa

Now Vacant | Best Location | 6 Bed

Garden Homes Frond A, Garden Homes Palm Jumeirah, Palm Jumeirah, Dubai

Villa

Luxury Furnished | Vacant | 4 Bed Villa

Mughal, The Grandeur Residences, Palm Jumeirah, Dubai

Apartment

Furnished | 1 BR | Full Sea View | Rented

Golden Mile 5, Golden Mile, Palm Jumeirah, Dubai

Apartment

Vacant On Transfer | A Type | 3,329 sqft

Mughal, The Grandeur Residences, Palm Jumeirah, Dubai

Apartment

Furnished | 2 BR + Maid | Partial Sea View

Golden Mile 1, Golden Mile, Palm Jumeirah, Dubai

Apartment

Two Bedroom | Extended Terrace | Vacant Dec

FIVE Palm Jumeirah, Palm Jumeirah, Dubai

Penthouse

Private Pool | Full Sea View | 4BR+Maid Penthouse

Golden Mile 5, Golden Mile, Palm Jumeirah, Dubai

Apartment

EXCLUSIVE to haus & haus || Top Floor C Type

Garden Homes Frond O, Garden Homes Palm Jumeirah, Palm Jumeirah, Dubai

Villa

Vacant Soon | Upgraded | Atrium Entry

Golden Mile 3, Golden Mile, Palm Jumeirah, Dubai

Apartment

Partial Sea View | Huge layout | 2 Beds

Oceana Pacific, Oceana, Palm Jumeirah, Dubai

Apartment

VACANT on Transfer | Fully Upgraded | Sea View

Balqis Residence, Kingdom Of Sheba, Palm Jumeirah, Dubai

Villa

Luxuriously Furnished | Ocean View Villa
Find homes by commute time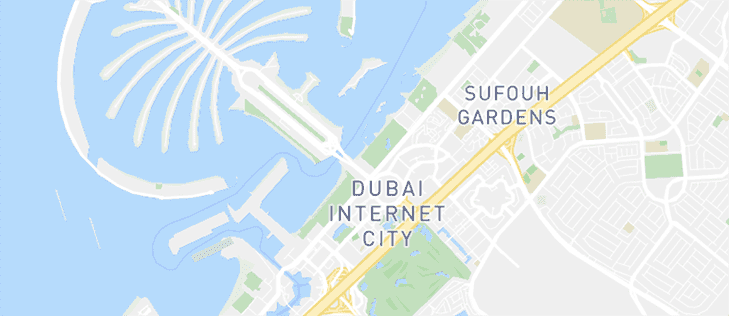 See Listings on the Map
Explore the area
Be the first to hear about new properties
Buying a Property in Palm Jumeirah
The real estate market of Dubai has evolved with the passage of time. From taking new initiatives to making regulatory changes, Dubai property has come quite far. Recently, it has introduced freehold residential properties in Dubai that have previously had no scope. Palm Jumeirah is a major example of this paradigm shift. Being one of the most iconic landmarks of Dubai, Palm Jumeirah has been the first one to observe the momentum gathered by the real estate market of Dubai. Known as the 'eighth wonder of the world', Palm Jumeirah is made of a 2-kilometre long trunk, 17 fronds and a crescent. Launched in the year 2001, Palm Jumeirah is a 5.72 sq. km. flagship project developed by Nakheel. Comprising 4,000 luxury apartments and villas, the real estate in Palm Jumeirah extends 5 kilometres into the Arabian Gulf. If you are looking to buy a contemporary property unit, buying one in the plush community of Palm Jumeirah would be a great option for you.
Types of Properties in Palm Jumeirah
Delicately made from 120 million cubic metres of sand and 7 million tons of rock which is dredged from the Hajar Mountains, Palm Jumeirah is one of the most extraordinary engineering projects ever undertaken by Dubai. Swathing a variety of resorts, restaurants and residential and commercial precincts, Palm Jumeirah offers a variety of fundamental and recreational facilities to the occupants. As far as its residential properties are concerned, Palm Jumeirah contains more than 1,420 flats, 364 houses, 28 townhouses, 83 penthouses and 45 hotel flats that offer a unique living experience to the occupants. Likewise, Palm Jumeirah has a variety of commercial properties that include 11 shops and over 5 uncluttered workspaces that are spacious, do not quarantine workers by the restricting walls of a cubicle and encourage open discussions.
Sale Price for Properties in Palm Jumeirah
Palm Jumeirah delivers jaw-dropping views of Dubai's skyline, offers tandem skydiving opportunities, lets people enjoy a palm-fringed swimming pool and makes them paddle through the calm waters of the sea. Owing to these excellent features of Palm Jumeirah, people want to buy a property unit in the community. If you want a perfect holiday retreat, you should go for apartments in Palm Jumeirah. They are available at a price of around AED 2,100,000. In case, you want a perfect escape in an idyllic setting, the villas for sale in Palm Jumeirah would be an ideal option for you. You can purchase them at a price that ranges between AED 5,900,000 and AED 8,000,000. If you are looking for a less-expensive residential unit then opt for townhouses in Palm Jumeirah. You can buy them at a reasonable cost of AED 2,500,000.
Popular Areas in Palm Jumeirah
You can explore many places in Palm Jumeirah, such as The Penthouse, an adults-only hideaway nestled on the 16th floor of Five Hotel that offers panoramic views of Dubai's skyline and various food and beverage facilities. In addition to that, Skydive Dubai is a wonderful area in Palm Jumeirah that gives an adrenaline rush to residents by giving them an opportunity to skydive at the speed of up to 120 mph. Besides that, the Riva Beach Club is a top-notch resort in Palm Jumeirah that features a Mediterranean restaurant, gazebo bar and a Spanish beach club El Chiringuito.
Reasons for Investing in Palm Jumeirah
An engineering marvel, Palm Jumeirah is connected to the mainland through Al Sufou road, offering direct access to Dubai's main thoroughfare, Sheikh Zayed Road. Transportation is not an issue since the Palm has a one-of-a-kind monorail that makes it easy for residents to move in and out of the area. The island is also home to a number of restaurants, such as Bread Street Kitchen & Bar and Social by Heinz Beck, shopping outlets, such as Nakheel Mall and beautiful parks such as Al Ittihad Park and Aquaventure Waterpark. Keeping in view these features, an investment in Palm Jumeirah would be a great option.