Last updated date:

Sat, 02 Jul 2022 10:42:57 GMT
53000 to 200000

AED

yearly
Al Sidir 2, Al Sidir, The Greens, Dubai

Apartment

Courtyard View | Chiller Free | Balcony

Al Nakheel 3, Al Nakheel, The Greens, Dubai

Apartment

Large Courtyard | Chiller Free | 3 Beds

Al Ghaf 1, Al Ghaf, The Greens, Dubai

Apartment

Vacant | Fully Upgraded | Study | Great Landlord

Al Thayyal 2, Al Thayyal, The Greens, Dubai

Apartment

Fully Furnished | Upgraded Studio | For Rent

Al Ghozlan 2, Al Ghozlan, The Greens, Dubai

Apartment

Pool View One Bed Apartment With Garden For Rent

Al Alka 3, Al Alka, The Greens, Dubai

Apartment

CHILLER FREE |1 BHK| Greens

Al Thayyal 2, Al Thayyal, The Greens, Dubai

Apartment

Chiller Free Furnished One Bed Monthly Rent

Al Thayyal 4, Al Thayyal, The Greens, Dubai

Apartment

Nice & Huge | 1 BHK | Facing Garden | Al Thayyal 4 | Greens

Al Arta 3, Al Arta, The Greens, Dubai

Apartment

Courtyard View | Chiller Free | Study Room

Al Dhafrah 4, Al Dhafrah, The Greens, Dubai

Apartment

18th July | Exclusive | Un-furnsihed

Al Thayyal 2, Al Thayyal, The Greens, Dubai

Apartment

1st July | Fully Furnished | Large Unit | Chiller

Al Samar 1, Al Samar, The Greens, Dubai

Apartment

Premium Quality Bright Elegant 1 Bedroom in Greens

Al Jaz 3, Al Jaz, The Greens, Dubai

Apartment

10th August | Large Terrace | Upgraded | 2 Parking

Al Dhafrah 4, Al Dhafrah, The Greens, Dubai

Apartment

10th July | Study | Internal | Well Kept | Chiller

Al Dhafrah, The Greens, Dubai

Apartment

Furnished 1Bedroom In Al Dhafrah 1 Cheque

Al Thayyal 2, Al Thayyal, The Greens, Dubai

Apartment

Vacant | Upgraded Floor | Large Terrace | Chiller

Al Nakheel, The Greens, Dubai

Apartment

Chiller Free | Kitchen Appliances | Balcony

The Onyx Tower 2, The Onyx, The Greens, Dubai

Apartment

Stunning Modern Unit at Onyx Tower

Al Samar 2, Al Samar, The Greens, Dubai

Apartment

1 BHK / Fully Furnished / Immaculate

Al Arta 3, Al Arta, The Greens, Dubai

Apartment

VACANT 2BR SIDE PARK VIEW WELL MAINTAINED

Al Thayyal 4, Al Thayyal, The Greens, Dubai

Apartment

Nice & Huge | 1 BHK | Al Thayyal 4 |Good View | Greens

Al Ghozlan 2, Al Ghozlan, The Greens, Dubai

Apartment

NICELY KEPT l POOL VIEW l AL GHOZLAN 2

Al Arta 3, Al Arta, The Greens, Dubai

Apartment

unfurnished courtyard pool view

Al Thayyal 2, Al Thayyal, The Greens, Dubai

Apartment

Pool and park view| spacious with study | Vacant in july
Find homes by commute time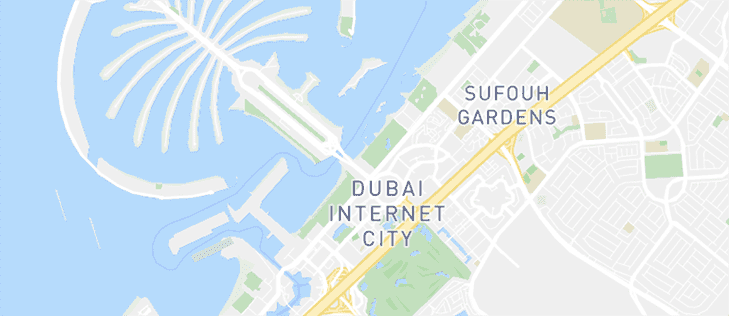 See Listings on the Map
Explore the area
Be the first to hear about new properties
Short Term Residential Rentals in

The Greens
Renting a Property in The Greens
For people of Dubai who have been in search of a place where they could enjoy their life in a peaceful environment and have all the facilities of health, education, and even entertainment within easy reach, The Greens is the best place to move to. It is a residential area developed by Emaar Properties that consists of 40 low-rise buildings that have many different sized apartments that are available for rent. The naturally green environment of the community makes it even more attractive.
Types of Properties in The Greens
The Greens is a well-planned and developed area that consists of 40 different buildings. These buildings are used for different residential and commercial reasons. The buildings have flats and apartments for rent; some have dedicated floors for offices too. The Greens community is further divided into 10 sub-communities. All these sub-communities have different types and sizes of apartments. An average studio apartment available in The Greens is far more spacious than those offered in other communities with the average size of 424 sq. ft. and the biggest one goes up to 490 sq. ft. The size of a 1-bedroom apartment in The Greens ranges from 740 sq. ft. to 1,000 sq. ft. A 2-bedroom apartment covers an area of 1,000 sq. ft. to 2,000 sq. ft. The 3 to 4-bedroom apartments in this area range between 1,400 sq. ft. to 2000 sq. ft. The Onyx is famous for its beautifully structured offices. One will find both furnished and non-furnished apartments in this building.
Rent Price Trends of Properties in The Greens
Located near the beautiful Dubai Investment Park, The Greens contains a number of apartments available for both residential and commercial purposes. A studio will cost you a yearly amount of AED 45,000 to AED 65,000. For a 1 to the 2-bedroom unit, the rental price goes from AED 60,000 to AED 168,000 yearly. The average rent of a 3 to 4-bedroom unit ranges from AED 113,000 to AED 165,000 yearly. However, for commercial use, an office in The Greens that offers a space ranging between 200 sq. ft. to 3,918 sq. ft. will cost anywhere between AED 42,000 to AED 352,535 per annum. A flexible payment method is also in place to further ease the process for those who are interested in renting a property in Dubai.
Popular Areas of The Greens
The location of The Greens makes it an ideal place not only for people interested to rent an apartment but also for those who want to open their offices in a peaceful environment. It is located along Sheikh Zayed Road that is one of the main roads leading directly to the rest of the city. The Greens is a well-established residential community that is situated alongside the famous Emirates Golf Club, with residential units of all sizes. In addition to that, popular areas, such as Dubai Marina and the American University of Dubai are also located just a short ten-minute drive from The Greens.
Reasons for Renting in The Greens
The Greens has become very popular among expats, tourists, and investors. These residential and commercial developments offer several key features, such as shared courtyards, swimming pools, shared BBQ areas, fitness clubs and secure playgrounds for children. Other basic living necessities of life include nearby pharmacies, reliable hospitals and medical clinics, educational centres, retail shops, shopping malls, cafes, and restaurants.