Apartments for rent in Golden Mile
Last updated date:

Mon, 26 Sep 2022 15:41:59 GMT
105000 to 380000

AED

yearly
Golden Mile 6, Golden Mile, Palm Jumeirah, Dubai

Apartment

Mid Oct | 2 Bed C-Type | Partial Park View

Golden Mile 6, Golden Mile, Palm Jumeirah, Dubai

Apartment

Ready To Move| 1306 SQFT| Fantastic Layout| 1 Bedroom For Rent In Golden Mile Palm Jumeirah Dubai

Golden Mile 6, Golden Mile, Palm Jumeirah, Dubai

Apartment

Exclusive | Well Maintained | 1BR | Available For Rent Golden Mile 6 palm jumeirah Dubai

Golden Mile 8, Golden Mile, Palm Jumeirah, Dubai

Apartment

5 Locations for Beach Gym Pool Access F&B Discount

Golden Mile 8, Golden Mile, Palm Jumeirah, Dubai

Apartment

Exclusive | Furnished | 2 Bed | C-Type

Golden Mile 9, Golden Mile, Palm Jumeirah, Dubai

Apartment

Exclusive | Well Maintained | 1BR | Available

Golden Mile 9, Golden Mile, Palm Jumeirah, Dubai

Apartment

Exclusive | Well Maintained | 1BR | Available in august

Golden Mile 10, Golden Mile, Palm Jumeirah, Dubai

Apartment

2BR + Maid |Park View | Fully Furnished

Golden Mile 1, Golden Mile, Palm Jumeirah, Dubai

Apartment

VACANT | Spacious 1BR in GM | Well Maintained

Golden Mile 7, Golden Mile, Palm Jumeirah, Dubai

Apartment

Vacant / Fully Furnished / Sea View + High Floor

Golden Mile 2, Golden Mile, Palm Jumeirah, Dubai

Apartment

Big Layout / Well maintained / Vacant soon

Golden Mile 5, Golden Mile, Palm Jumeirah, Dubai

Apartment

Type C | Vacant | Negotiable

Golden Mile 3, Golden Mile, Palm Jumeirah, Dubai

Apartment

Type C | 2BR + Maid | High Floor | Park View | Golden Mile

Golden Mile 2, Golden Mile, Palm Jumeirah, Dubai

Apartment

Spacious 3bed l High floor l Well maintained

Golden Mile 8, Golden Mile, Palm Jumeirah, Dubai

Apartment

Vacant | Luxury | Wooden Flooring | Walk in Closet

Golden Mile 3, Golden Mile, Palm Jumeirah, Dubai

Apartment

Large terace I Vacant Now I Low Floor

Golden Mile 8, Golden Mile, Palm Jumeirah, Dubai

Apartment

HUGE APARTMENT | ACCESS TO GALLERIA | READY

Golden Mile 1, Golden Mile, Palm Jumeirah, Dubai

Apartment

Vacant | Spacious 1 BR | Partial Sea Views

Golden Mile 1, Golden Mile, Palm Jumeirah, Dubai

Apartment

Extended Balcony / VOT / Low Floor
Find homes by commute time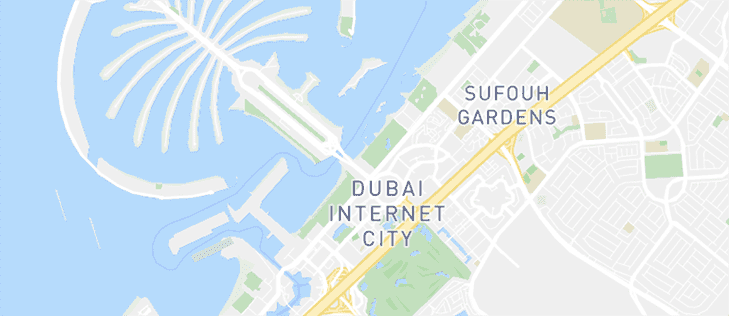 See Listings on the Map
Explore the area
Be the first to hear about new properties
Short Term Apartment Rentals in

Golden Mile
Renting an Apartment in Golden Mile
One of the most sought-after areas in Dubai, Palm Jumeirah is an artificial archipelago built in the shape of a palm tree off the coast of the city and extends into the Arabian Gulf. Renting real estate in Dubai doesn't get much fancier than Palm Jumeirah. Often claimed as the eighth wonder of the world, Palm Jumeirah is a majestic development that a is a landmark of Dubai and across the world alike. Leasing property in Palm Jumeirah will set you up for an all-around luxury lifestyle. The Golden Mile in Palm Jumeirah is an apartment complex comprising of 10 buildings.
Types of Apartments in Golden Mile
Sitting parallel to the Shoreline Apartments, the apartments for rent in Golden Mile stretch across Palm Jumeirah's Trunk. The buildings of the Golden Mile apartments for rent also include some office spaces and retail. These prestigious properties in Golden Mile feature a range of spectacular housing from 1, 2, 3-bedroom flats to penthouses. The interiors of the apartments in Golden Mile feature high-end fittings, modern kitchens equipped with an integrated oven, and walk-in closets.
Rent Price Trends for Apartments in Golden Mile
A premier development in the world's most exciting location, the apartments for rent in Golden Mile feature an elegant mix of residences. Anyone looking for renting apartments here, these waterfront properties also have a wide range of shopping and leisure facilities on offer for you in its community. Offering an idyllic location with western style features, the 1-bedroom Golden Mile apartments for rent have a yearly price trend that starts from AED 76,000 and 2-bedroom flats from AED 109,250.
Highlights of Golden Mile
The residents of the rental Golden Mile apartments enjoy an extensive range of services offered by the Palm Hotel & Resort nearby. There is a clubhouse with access to membership, swimming pool, private beach, modern health club, restaurant/café and children's playground. The flats for rent here also offers maintenance services, housekeeping, maid and children services and also concierge and security.