Properties with floor plans
Apartments for rent in Tiara Residences
Last updated date:

Thu, 29 Sep 2022 11:13:06 GMT
145000 to 360000

AED

yearly
Ruby, Tiara Residences, Palm Jumeirah, Dubai

Apartment

Direct From Owner | Atlantis View 3BR | High Floor | Available Oct

Amber, Tiara Residences, Palm Jumeirah, Dubai

Apartment

Modern Design | Prime Location | Beach Access

Ruby, Tiara Residences, Palm Jumeirah, Dubai

Apartment

Amazing View I Beach Access I Best Unit

Amber, Tiara Residences, Palm Jumeirah, Dubai

Apartment

Beach Access I Infinity Pool I Vacant Now

Sapphire, Tiara Residences, Palm Jumeirah, Dubai

Apartment

Spacious | Beach Access | Vacant

Amber, Tiara Residences, Palm Jumeirah, Dubai

Apartment

Private Beach | Partial Sea View | Large Balcony

Sapphire, Tiara Residences, Palm Jumeirah, Dubai

Apartment

Spacious | Beach Access | Vacant

Ruby, Tiara Residences, Palm Jumeirah, Dubai

Apartment

3 Beds | High Floor | Full Atlantis View

Ruby, Tiara Residences, Palm Jumeirah, Dubai

Apartment

SN | Full Atlantis/Sea View 3Bed | High Floor | Palm Jumeirah

Amber, Tiara Residences, Palm Jumeirah, Dubai

Apartment

Spacious, Bright 1 BR Private Beach Access Tiara

Amber, Tiara Residences, Palm Jumeirah, Dubai

Apartment

Type 3B | Partial Sea View | Well Maintained

Amber, Tiara Residences, Palm Jumeirah, Dubai

Apartment

SN | Stunning Sea view 3Bed | Vacant Ready to Move

Amber, Tiara Residences, Palm Jumeirah, Dubai

Apartment

Three Beds | Unfurnished | Beach Access

Sapphire, Tiara Residences, Palm Jumeirah, Dubai

Apartment

SN | Lowest| City View | 3Bed in Palm Jumeirah

Amber, Tiara Residences, Palm Jumeirah, Dubai

Apartment

SN | City View Large Size 1Bed | Palm Jumierah

Amber, Tiara Residences, Palm Jumeirah, Dubai

Apartment

BEAUTIFUL UNFURNISHED 1 BED /VACANT NOW

Amber, Tiara Residences, Palm Jumeirah, Dubai

Apartment

TIARA RESIDENCE | VACANT NOW | 3 BEDROOMS

Ruby, Tiara Residences, Palm Jumeirah, Dubai

Apartment

Vacant October 7th | Unfurnished | Atlantis Views

Sapphire, Tiara Residences, Palm Jumeirah, Dubai

Apartment

Sea view! Vacant Apartment! Choice of more units

Amber, Tiara Residences, Palm Jumeirah, Dubai

Apartment

SPACIOUS UNFURNISHED APARTMENT WITH SEA VIEW

Sapphire, Tiara Residences, Palm Jumeirah, Dubai

Apartment

Club Vista mare View I Low Floor I Vacant

Tiara Residences, Palm Jumeirah, Dubai

Apartment

Rare Gem | High Floor | Full Atlantis Sea View

Sapphire, Tiara Residences, Palm Jumeirah, Dubai

Apartment

BEST OFFER/ SPACIOUS APARTMENT IN TAIRA RESIDENCE

Sapphire, Tiara Residences, Palm Jumeirah, Dubai

Apartment

3 BR + Study Room | Partial Sea View | Accessible
Find homes by commute time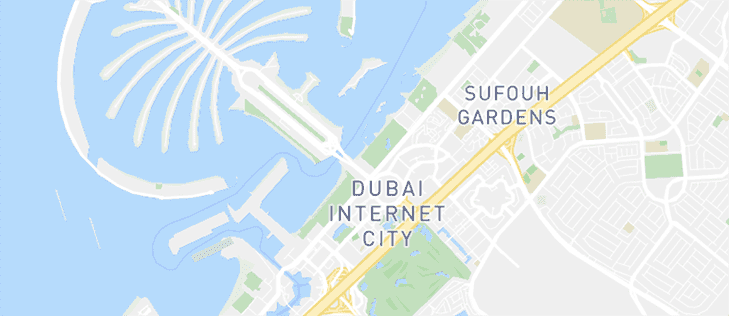 See Listings on the Map
Explore the area
Be the first to hear about new properties
Short Term Apartment Rentals in

Tiara Residences
Renting an Apartment in Tiara Residences
Palm Jumeirah is a man-made archipelago built in the shape of a palm tree. Developed by Nakheel, Palm Jumeirah is constructed on the land reclaimed from the sea of the Arabian Gulf. It is one among the three Palm Islands together with Palm Jebel Ali and Palm Deira. The island constitutes the Trunk, the Crescent and 16 Fronds and is home for some of the most expensive hotels and resorts in Dubai. Claimed as the eighth wonder of the world, renting in Palm Jumeirah is an unparalleled status symbol and something to be proud of. It is also a popular and confident choice among real estate investors. Tiara Residences is a gated community of luxury apartments in the Palm Jumeirah.
Types of Apartments in Tiara Residences
Located on the trunk of the Palm Jumeirah, the apartments for rent in Tiara Residences are comprised of seven 15 storey buildings along with a floor of penthouses. The Tiara Residences rental apartments come in spacious 1, 2 and 3-bedrooms. There is a total of 238 1-bedroom, 210 2-bedroom, 182 3-bedroom and 14 penthouses in the Tiara Residences property. The apartments in Tiara Residences are surrounded by landscaped grounds and is located on the quietest and exclusive islet. Offering the residents fine traditions of Asian hospitality complemented by local architecture and culture, Tiara Residences have an incomparable spark of beauty and calmness.
Rent Price Trends for Apartments in Tiara Residences
If you plan to lease a property in Dubai that offers a luxury beach-front lifestyle, Palm Jumeirah is a coveted option to choose. The magnificently gated community of Tiara Residences delivers an exceptional natural living. The 1-bedroom apartments for rent in Tiara Residences have a yearly price trend that starts from AED 110,000 to AED 155,000 and the 2-bedroom flats start from AED 160,000 to AED 230,000. Whereas the 3-bedroom apartments in Tiara Residences have a rental trend of AED 190,000 per year to AED 310,000 per year.
Highlights of Tiara Residences
Located on the most secluded atoll of Palm Jumeirah, the apartments for rent in Tiara Residences have their own pristine beach and beautifully landscaped tropical gardens. The flats have basement level parking spaces for 1,300 cars and the development also comprise the Tiara Hotel & Resort with 244 rooms. Tiara Residences also features opulent pools, 2 well-equipped fitness centres, 2 luxurious spas and an array of restaurants and bars. An idyllic cocoon, the residents of Tiara Residences also have easy access to popular shopping spots such as Dubai Marina Mall and Dubai Pearl Mall.