Last updated date:

Wed, 17 Aug 2022 12:33:24 GMT
950000 to 2000000

AED
Al Mowaihat 1, Al Mowaihat, Ajman

Villa

Without down payment and at a snapshot price, a modern European.

Al Yasmeen, Ajman

Villa

For urgent sale, one of the most luxurious villas in Ajman, with super deluxe design and finishing, with the possibility of bank financing, at a snaps

Al Yasmeen, Ajman

Villa

Villa Corner for sale in Jasmine, the city of happiness, splendor and luxury, the finishing design is very sophisticated, the house of life for owners

Al Zahya, Ajman

Villa

For urgent sale, without down payment, a villa near the mosque, one of the most luxurious villas in Ajman, with personal construction and finishing, s

Al Yasmeen, Ajman

Villa

Villa for sale, personal finishing, freehold for all nationalities. At an opportunity price.

Al Yasmeen, Ajman

Villa

Villa for sale without down payment 100% bank financing directly on the main street, freehold for life for all nationalities

Al Zahya, Ajman

Villa

For urgent sale without down payment and at the price of a snapshot of a villa opposite the mosque, one of the most luxurious villas in Ajman with con

Al Mowaihat 1, Al Mowaihat, Ajman

Villa

The most luxurious residential villas in Ajman directly near the street, the finest residential sites, freehold of all nationalities

Al Yasmeen, Ajman

Villa

Finishing a hotel villa in a residential location close to all services without down payment next t

Al Zahya, Ajman

Villa

For urgent sale without down payment and at the price of a villa near the mosque, one of the most luxurious villas in Ajman, with construction and per

Al Yasmeen, Ajman

Villa

Opportunity for sale villa European design with personal and modern construction and finishing suitable for everyone in large areas and without any se

Al Yasmeen, Ajman

Villa

At the price of a modern villa, close to all services, central air conditioning, one of the most luxurious villas in Ajman, with personal construction

Al Yasmeen, Ajman

Villa

Villa for sale with a stone front, freehold for all nationalities. An opportunity price is negotiable with the owner directly and without commission. .

Al Mowaihat 1, Al Mowaihat, Ajman

Villa

European design behind Nesto Mall, directly near the main street, freehold all parties

Al Yasmeen, Ajman

Villa

Villa for personal finishing without down payment and in comfortable monthly installments

Al Yasmeen, Ajman

Villa

For sale a modern villa - two floors and a roof near the services, excellent finishes - freehold fo

Al Yasmeen, Ajman

Villa

Modern villa for sale - excellent finishes - freehold for all nationalities - without any annual f

Al Yasmeen, Ajman

Villa

Finishing a hotel villa in a residential location close to all services without down payment next to a mosque with bank facilities up to 100% of the p

Al Zahya, Ajman

Villa

For urgent sale, without down payment, a villa near the mosque, one of the most luxurious villas in Ajman, with personal construction and finishing, s

Al Yasmeen, Ajman

Villa

For sale in the finest areas of Ajman opposite Rahmaniya, Sharjah, with the best designs and modern finishes at a very special price

Al Yasmeen, Ajman

Villa

For sale, one of the most luxurious villas in Ajman, with a hotel design and super deluxe finishing, with the possibility of bank financing without do

Al Zahya, Ajman

Villa

Exquisite personal finishes, modern design, freehold for all nationalities, financing solutions, bank installments and financing for up to 25 years di

Al Yasmeen, Ajman

Villa

At the price of a snapshot and without down payment, a villa near the mosque from the most luxurious villas in Ajman with hotel finishing, personal bu

Al Yasmeen, Ajman

Villa

In Ajman residential areas, you have a villa with a distinctive design, super deluxe finishing, at the lowest prices, in cash, housing grants, or bank
Find homes by commute time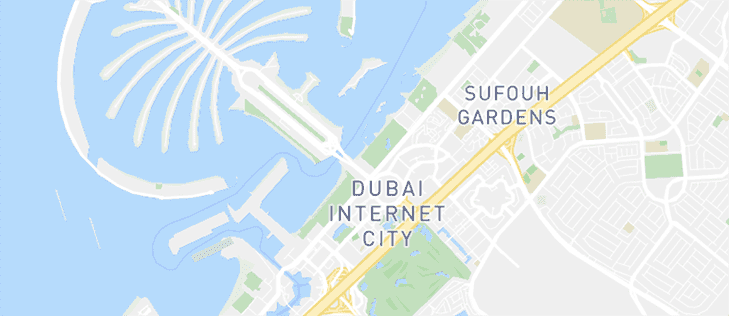 See Listings on the Map
Explore the area
Be the first to hear about new properties
Buying a Property in Ajman
In 2004, the Emirate of Ajman began offering freehold properties to non-Emirati investors. This decision to offer absolute ownership to foreigners generated huge interest for properties in Ajman. Having freehold properties that are more on the affordable side, the emirate has attracted several first-time investors who are looking to capitalize on the growing property market of Ajman. If Ajman could be described in one sentence, it would be defined as 'a small emirate with huge ambitions'. Situated between Sharjah and Umm-ul-Quain, the Emirate of Ajman is considered an ideal place to live in for those who cannot afford to Dubai or even Sharjah. For those commuting to Dubai for work, they could expect to reach work in around 40 to 50 minutes during moderate traffic. For those looking to commute to Abu Dhabi, the commute can exceed 2 hours. However, the long commute is the only downside of living here. The demographics of this emirate mostly consists of Arabs, hailing from countries such as Egypt, Syria, Jordan and Palestine. There is also a sizable population of Indians, Pakistanis and Filipinos. What's more, the demographic of Ajman is mostly made up of families as Ajman is considered an emirate that offers an ideal family-friendly environment. However, there are also many single professionals residing in this emirate.
Types of Properties in Ajman
One can buy property that comes in a variety of categories such as residential or commercial. For instance, the most popular apartment in Ajman will come with 2 or 3-bedrooms with 1,433 sq. ft. of floor space, while the most in-demand villa will come with 5-bedrooms and around 4,200 sq. ft. of floor space. Ajman also has a decent selection of townhouses and the most in-demand version comes with a floor-plan that includes 3-bedrooms and 3 baths with 1,695 sq. ft. of floor space. With plenty of options available for buying land in Ajman, the most in-demand area is Al Manama that comes with 4,600 sq. ft. total area. In regards to commercial property, the most popular office for sale in Ajman will come with 1,187 sq. ft. of working space. For those looking to purchase their own retail space, the most in-demand shop in Ajman will come with 9,000 sq. ft. of floor space in Al Nuaimiya 2. For those interested in investing in a warehouse, the most popular type comes in the form of 20,000 sq. ft. of storage space. There are also commercial villas available in Ajman in which the typical unit will come with 6 rooms and 10,000 sq. ft. of floor space.
Popular Areas of Ajman
Some areas in Ajman are more popular for buying and selling properties as compared to others. At the top of the list is the community of Corniche Ajman. This community stretches 4 kilometres horizontally across the shores of Ajman. This is an area that has a bustling commercial district that is lined with restaurants and cafes. The area mostly consists of high-rise apartment towers that offer waterfront living to its residents. Second, on the list is the community of Al Nuaimiya – this is a vicinity that is known for its affordable prices. The reason behind its popularity is that it is a well-established community with a thriving commercial district. Al Nuaimiya is also home to Safeer Mall which is a large mall visited by Ajman residents on a regular basis. Also, schools such as the British International School – being one of the leading schools in Ajman – is just a few minutes away. Third on the list is the community of Al Mowaihat. Its popularity is mostly related to its traditional looking Emirati houses. The area has a traditional charm to it and is home to some of the top schools in Ajman.
Lifestyle in Ajman
Ajman has some of the most gorgeous beaches – ones that can be fairly compared with beaches found in Dubai. One of the most popular areas for locals to spend leisurely time is the Corniche Area. This area is popular because it has several restaurants, cafes and shisha bars to choose from. Many can be observed puffing on shishas on weekend nights as it is a favourite past time for many residents and tourists visiting Ajman. Similar to Dubai and Sharjah, there is a decent selection of shopping malls such as Ajman City Centre, Ajman China Mall and a few others. Additionally, Ajman is expected to have its own, world-class hospital known as the Saudi-German Hospital. The Ajman branch will be larger than the Dubai branch and new universities are also under construction. Currently, there are only a handful of universities in Ajman such as the Ajman University, Gulf Medical University and City University and College of Ajman. Here, residents will also find access to some top-class schools where their children can get a top-notch education. These schools are Al Ameer English School, Pakistan Islamia Higher Secondary School and Ajman Modern School. However, for those depending on public transport, they should know that Ajman doesn't have a reliable public transportation infrastructure, so owning a vehicle is essential if one needs to get around Ajman.
Sale Price Trends for Properties in Ajman
Studio flats for sale in Ajman will demand an average price of AED 230k while buying a 4-bed apartment can cost around AED 400k. All other types of apartments will fall in the price bracket mentioned above. Moving on, the average 3-bed house in Ajman will be priced at AED 550k, while the largest villa for sale in Ajman will typically demand a purchase price of AED 1.62M. With commercial spaces, a 1,187 sq. ft. office in Falcon Tower will demand a price of AED 300k. Those interested in purchasing their own retail-shop, consisting of 9,000 sq. ft. of showroom space, should be prepared to pay AED 3.3M.