Properties with floor plans
Townhouses for sale in Dubai
Last updated date:

Sat, 01 Oct 2022 05:41:14 GMT
850000 to 5000000

AED
Aster, DAMAC Hills 2 (Akoya by DAMAC), Dubai

Townhouse

Beautifully Presented | Upgraded | Furnished

Arabella 1, Arabella Townhouses, Mudon, Dubai

Townhouse

VOT | Type A | Upgraded | Vastu | Mid Unit B2B

Amaranta 1, Amaranta, Villanova, Dubailand, Dubai

Townhouse

Brand New | Big Plot | Maid Room | Single Row

Amaranta, Villanova, Dubailand, Dubai

Townhouse

Pool facing | genuine | vacant

Arabella 2, Arabella Townhouses, Mudon, Dubai

Townhouse

Type B | 3 Bed Semi | Corner Unit | Bigger Plot

Townhouse Area, Green Community East, Green Community, Dubai

Townhouse

Exclusive | Prime Location | Upgraded

Amaranta B, Amaranta, Villanova, Dubailand, Dubai

Townhouse

Hot Deal | Ready To Move | Keys In Hand

Dreamz by Danube, Al Furjan, Dubai

Townhouse

Park View | Spacious Unit with 2 Parking

Arabella 1, Arabella Townhouses, Mudon, Dubai

Townhouse

Exclusive | 3 Bed Semi Detached | Upgraded

Casa Dora, Serena, Dubai

Townhouse

VOT Corner Unit Type B Priced to Sell Back 2 Back

District 9E, Jumeirah Village Triangle (JVT), Dubai

Townhouse

3 Bed Plus Maids | Vastu | Great Location

Mira Oasis 3, Mira Oasis, Reem, Dubai

Townhouse

Single row | Corner unit | Huge Plot

JVC District 12, Jumeirah Village Circle (JVC), Dubai

Townhouse

Vacant | Great Location | Single Row

The Turf, DAMAC Hills, Dubai

Townhouse

Vacant Now | 5 Bedrooms | Larger Than Average plot

Green Community (Motor City), Motor City, Dubai

Townhouse

Upgraded | Immaculate Condition | Prime Location

The Turf, DAMAC Hills, Dubai

Townhouse

Vacant | Back to Back | THD | Great Plot

Casa Dora, Serena, Dubai

Townhouse

Single Row TH | 2Bed+Maid | Casa Dora Serena

Dubai Style, Al Furjan, Dubai

Townhouse

3 Bed | Dubai Style | Great Location |Maids

Quortaj, Al Furjan, Dubai

Townhouse

EXCLUSIVE! Type A | Corner Plot | Tenanted

Amaranta 1, Amaranta, Villanova, Dubailand, Dubai

Townhouse

Brand New | Below Market Price

Mimosa, DAMAC Hills 2 (Akoya by DAMAC), Dubai

Townhouse

Upgraded | Single Row | Vacant

Mediterranean Townhouses, Jumeirah Village Triangle (JVT), Dubai

Townhouse

Quiet Location | Park Backing | Vacant On Transfer

Arabella 1, Arabella Townhouses, Mudon, Dubai

Townhouse

Semi Detached | Single Row | Vacant

Amaranta, Villanova, Dubailand, Dubai

Townhouse

Gated Community | Motivated Seller | Brand New
Popular Studio & Bedroom Searches of Townhouses for Sale in Dubai
Find homes by commute time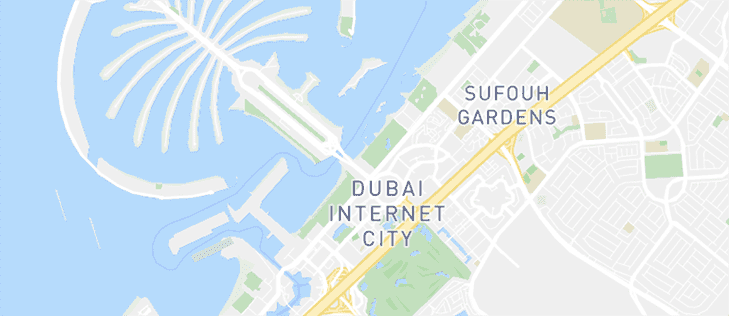 See Listings on the Map
Explore the area
Be the first to hear about new properties
All about Buying a Townhouse in Dubai
The emirate of Dubai has seen remarkable developments in the past few years. It has always been fast-paced and one of the world's most desirable addresses to work and live in. A few of the major reasons for this are the premium facilities on offer and a relatively reasonable cost of accommodation considering the quality of life ensured in terms of safety and financial stability. Besides being recognised as a top tourist destination, Dubai is home to people from various nationalities who come here as expats. The opportunities are endless and that's the very reason why many people move to Dubai. With revised policies by the Government of Dubai for foreign investments in the real estate market, for expats owning a home in Dubai has become easier with many choosing to invest in townhouses in Dubai.
Developers in Dubai's real estate market also offer rent to own schemes. Each scheme is unique based on the timeframe. Simply put, rent-to-own opportunities allow the buyer to pay for the property as one would pay for a rental lease. The agreement between the developer and buyer states that monthly payments will be made to the developer and the property price will be paid off that way instead of obtaining a mortgage. Once the period is over, the buyer can either purchase the property or exit the agreement. In this case, rents are higher than the market considering the buyer's convenience and securing the factor of saving for a deposit. You can consider townhouses for sale in Dubai on a rent-to-own basis in residential communities including Jumeirah Village Circle (JVC), Jumeirah Village Triangle (JVT), Meydan City, Green Community and The Lagoons.
Freehold vs. Leasehold Property in Dubai
Foreign investors or new buyers, especially expats are often confused between the leasehold and freehold property ownership status. To make an informed decision, you need to understand the basic difference and choose to buy a townhouse for sale in Dubai that best suits your requirements and budget. Before the year 2002, foreign investors could not buy property in Dubai. Since the change in policies by the Government of Dubai, expats could own real estate in the designated freehold areas. On the other hand, leasehold areas allow leasing a property for a fixed time period, generally ranging from 10 to 99 years. Such properties are called leasehold properties.
Buying a freehold property means that the investor is entitled to the ownership of the property and the land it stands on in specific freehold areas in Dubai such as Jumeirah Village Circle (JVC), The Springs and many others. One can also lease a property in leasehold areas which essentially means that the buyer gets the right to occupy the property for an agreed period and the ownership of the piece of land remains with the freeholder. Once the agreement expires, the ownership of the property is reverted to the freeholder and can be renewed. Moreover, the leaseholder has limited liability over maintenance and repairs. This would also imply that they will need a written agreement in case of remodeling or bringing any structural changes to the property. Interested buyers can search for considerable options for townhouses in Dubai for sale in areas like Green Community, Dubai Silicon Oasis and many others. Another thing to consider while buying townhouses for sale in Dubai on a leasehold basis is that these properties can't be bought outright and are only to be purchased from a GCC or UAE National landlord.
There is no limitation of freehold areas for local Emiratis and they can buy property anywhere in the United Arab Emirates. The freehold areas are specified by the government for expats and foreign investors and are subject to changes as per the policies set by the Government of Dubai.
Types of Townhouses in Dubai
Townhouses in Dubai, also known as townhomes are often confused with villas. The property type is slightly different and generally built in homogenous clusters or communities with shared facilities. Townhouses typically share a boundary/wall while villas are mostly standalone and independent. If you are looking for townhouses for sale in Dubai, you can choose between attached and semi-attached 1 to 5-bedroom units.
Investors can find a range of ready townhouses for sale in Dubai. If you are looking to move with family, you can choose between 3, 4 and 5-bedroom units, some of which are triplex units. There is also a wide range of 1 and 2-bedroom ready to move in townhouses for sale in Dubai suitable to those in search of reasonable and affordable accommodation. These units are built in clusters and feature similar architectural styles with private gardens and parking spaces. One can also go for terraced units, priced higher compared to other units.
Investors also consider buying off-plan properties since the price of these is comparatively less expensive and the chances of the property rising in value is high. Off-plan townhouses will be under construction so it is recommended that you buy from a trusted developer. Popular communities in Dubai where you can buy off-plan townhouses in Dubai include The Valley, Tilal Al Ghaf, MAG Eye, Mohammed Bin Rashid City and Villanova in Dubailand.
There are two types of townhouses in Dubai based on the construction style. You can choose between attached and semi-attached units. Attached townhouses are those that share a wall on both sides. It does not disturb the privacy of residents but those who like can go for semi-detached townhouses which means that the property is partly attached or shares a wall with another on one side. Semi-attached townhomes are mostly those built on corner plots.
Popular Areas to Buy Townhouses in Dubai
As per the market trends research by Bayut, Arabian Ranches and Akoya Oxygen are two of the top areas to buy townhouses in Dubai. While Arabian Ranches is primarily acknowledged for luxury villas, the sub-communities of Palmera and Al Reem have a good range of townhomes offered for sale. You can choose from 2-bed, 3-bed and 4-bedroom units, ready units and off-plan townhouses. If you are looking to live away from the rush of the mainland, Akoya Oxygen will be the right place for you. There are luxury townhouses in Just Cavali and Aknan in various configurations from 3-bed to 4-bed units. Other considerable options include JVC, Dubailand and Mudon.
Sales Trends for Townhouses in Dubai
Pricing is one of the major deciding factors when it comes to buying a property in Dubai. Those new to Dubai's real estate market must understand the difference between the different kinds of prices. First, you will be quoted a list price or the asking price of the property which is negotiable. The final sale price is what you pay or the one for which the property owner will settle for. Then, there is the appraised value of the property in question quoted by the real estate agent by comparing the property with other properties in the same market.
1-bedroom townhouses spanning around 900 sq. ft. to 950 sq. ft. can be bought for around AED 420k to AED 500k. The prices of such units may go up to AED 1.4M and AED 2M depending on the construction quality and location. Generally, townhouses in secluded islands like Palm Jumeirah fall in this category considering the luxurious amenities on offer. Further, a 2-bedroom townhouse will typically cost around AED 1.1M while a 3-bed unit is priced at AED 1.5M, approximately. If you choose to buy a bigger and more luxurious unit, say, 4-bed and 5-bedroom townhouses in Dubai, prepare to fork out around AED 2M and AED 3M or more, respectively.
ROI for Townhouses for Sale in Dubai
The highest return on investment for townhouses is recorded at 6.4% This includes properties in Jumeirah Village Circle (JVC) generally found in configurations from 3 to 5-beds. The Springs is also a considerable option for investors promising a 6% rental yield of around 6% for 3 and 4-bed units. If you buy townhouses in DAMAC Hills (Akoya by DAMAC), Dubailand or Arabian Ranches, you can expect a high return on investment of above 5%.
How to Buy a Townhouse in Dubai?
Foreign investors and new buyers, especially expats have a lot of questions regarding buying a townhouse in Dubai. The process is pretty simple compared to other countries and with specified labels and filters at Bayut's official website, searching for the right property has been simplified. In Dubai, you can either buy a townhouse off-plan from the developer or on the secondary market from a private seller or landlord. Expats interested in investing in an off-plan property, need to submit a passport with a reservation form that outlines the terms on the title deed. The reservation fee is generally between 5% to 15% of the property value after which a Sales and Purchase Agreement (SPA) will be drawn between both parties. The SPA outlines all the details of the deal including the completion date and compensation in case there is a delay.
The sale and purchasing of properties in Dubai is handled by the government-owned Dubai Land Department (DLD). In case of purchasing a resale property, a Memorandum of Understanding is signed by both parties that outlines the terms and conditions of the deal. Once that is done, the buyer will pay the deposit (generally 10% of the total cost) confirming the purchase and a No Objection Certificate (NOC) will be issued by the DLD to transfer the ownership of the property. In case you are mortgaging on the property, the respective banks will be involved and a registration fee calculated at 0.25% will be paid to the DLD.
Cost Associated with Buying a Townhouse in Dubai
When getting a townhouse in Dubai for sale, there are some other costs besides the upfront purchase price. If you are buying via an agency, there will be a commission charge and fees for the NOC. The NOC fees range anywhere from AED 500 to AED 5k. Another 4% of the property value is to be paid to the DLD as transfer fees. If you are considering a mortgage, 0.25% of the total loan amount will be applicable as the mortgage fees payable to the Dubai Land Department.
Once there is a transfer of ownership, the buyer will pay maintenance fees to the owner's association management company. This is usually the developer or the property management company, service charges are also regulated by the DLD. To get the connection of utilities including light, gas, air-conditioning, phone and internet, the buyer will have to register themselves with the respective parties. DEWA is Dubai Water and Electric Authority that charges around AED 4.5k for registration of the water and electricity services. AED 4,000 is a security deposit refundable at the time of vacancy.