Apartments for rent in The Palladium
Last updated date:

Thu, 30 Jun 2022 12:08:49 GMT
74999 to 139999

AED

yearly
The Palladium, JLT Cluster C, Jumeirah Lake Towers (JLT), Dubai

Apartment

Fully Furnished 1BR | Close to Metro | Lake View

The Palladium, JLT Cluster C, Jumeirah Lake Towers (JLT), Dubai

Apartment

Beautiful 2BR with Big Balcony | Lake View

The Palladium, JLT Cluster C, Jumeirah Lake Towers (JLT), Dubai

Apartment

Fully Furnished 1BR | Stunning Lake View

The Palladium, JLT Cluster C, Jumeirah Lake Towers (JLT), Dubai

Apartment

Low rent, furnished 1 BR, large

The Palladium, JLT Cluster C, Jumeirah Lake Towers (JLT), Dubai

Apartment

Huge Layout 2bhk||With Laundry Room||Close to Metro

The Palladium, JLT Cluster C, Jumeirah Lake Towers (JLT), Dubai

Apartment

One Bedroom | Palladium Tower | For Rent | Close to Metro

The Palladium, JLT Cluster C, Jumeirah Lake Towers (JLT), Dubai

Apartment

Ready To Move | Palladium Tower | Near Metro

The Palladium, JLT Cluster C, Jumeirah Lake Towers (JLT), Dubai

Apartment

2 Bedroom For Rent In Palladium

The Palladium, JLT Cluster C, Jumeirah Lake Towers (JLT), Dubai

Apartment

Beautifully Furnished |1Bedroom Apartment |Balcony| Beautiful Marina View|

The Palladium, JLT Cluster C, Jumeirah Lake Towers (JLT), Dubai

Apartment

Fully Furnished | Prim Location | Near to Metro | Multiple Cheque | SZR & Marina Mall View | With Parking | With balcony

The Palladium, JLT Cluster C, Jumeirah Lake Towers (JLT), Dubai

Apartment

|2BR Apt Close to Metro Station||With Lake View|.

The Palladium, JLT Cluster C, Jumeirah Lake Towers (JLT), Dubai

Apartment

3BHK ||Unfurnished||Close to Metro

The Palladium, JLT Cluster C, Jumeirah Lake Towers (JLT), Dubai

Apartment

High Floor | 2 bedroom w/ Laundry room in Palladium
Find homes by commute time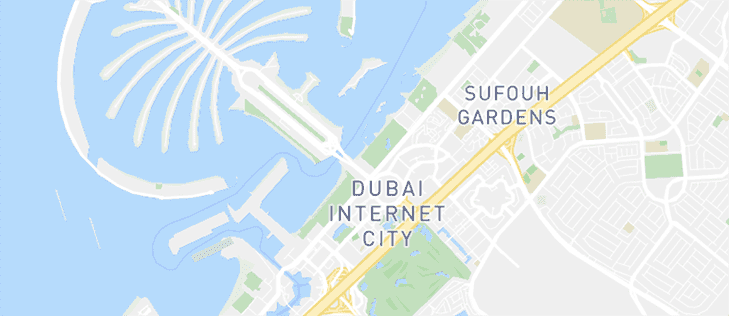 See Listings on the Map
Explore the area
Be the first to hear about new properties
Renting an Apartment in The Palladium
Jumeirah Lake Towers (JLT) is yet another breakthrough by Nakheel that features a collection of high-rise buildings that are elegantly pigeon-holed into 26 clusters made of three buildings each. Named after its crystal clear man-made lagoons, the JLT real estate is a luxury vertical neighborhood that stars a vibrant mix of residences, workplaces, restaurants and cafes, hotels and retail spaces. Tactfully situated across the bustling Dubai Marina along Sheikh Zayed Road, the property has earned credits for its quirky eateries serving delectable cuisines and its landscaped pedestrian-friendly environment. Esthetically standing within Cluster C of JLT, The Palladium is destined to be one of the most longed-for properties in Dubai.
Types of Apartments in The Palladium
Developed by ETA – ASCON, the apartments for rent in The Palladium feature an eclectic mix of spacious units ranging from studios to 1-bedroom, 2-bedroom and 3-bedroom flats and lavish penthouses. Divinely spanning across 35 floors, the apartments for rent in The Palladium showcase spacious living and dining areas with sprawling private landscaped balconies, fully-equipped kitchens with granite top and cabinets, linear wardrobes and walk-in closets, luxury bathrooms with deluxe German and Italian fixtures, all made with high-end finishes. Making the most of the benefits of living in JLT, the apartments for rent in The Palladium are the perfect spot for renting.
Rental Price Trends for Apartments in The Palladium
Impeccably sprawling over a landscape of half a million square feet of built-up area, the apartments in The Palladium are quite economical to rent. An ideal spot of luxury residence for mid-range families looking for a dream home without having to break the bank, the price of renting a lavish 2-bedroom flat in The Palladium starts from AED 84,999 per year. Whereas, the rental price of an upmarket 3-bedroom apartment in The Palladium will cost you as low as AED 120,000 per year.
Highlights of The Palladium
Conveniently located next to the 50 modern Dubai Metals and Commodities Center (DMCC), The Palladium apartments for rent boast a smart medley of world-class perks for residents. Flaunting high-end amenities like a modern health club including state-of-the-art gymnasium, 150 meters walking or jogging trail on the 34th floor, high security access, basement & podium car parking, separate retail area offering convenient shopping, lakeside activities and high security access and a spacious multi-purpose hall for rooftop parties, The Palladium has something to entice every age and mood all-day-and-night.