Last updated date:

Mon, 15 Aug 2022 13:40:09 GMT
630000 to 1600000

AED
Sarab Community, Aljada, Sharjah

Townhouse

Ready 3BR in Aljada | Prime Location | Closed Kitchen | Appliances Free

Sarab Community, Aljada, Sharjah

Townhouse

Own 2BR Townhouse In ALjada | Ready to Move | Mortgage is Applicable | only 10% down Payment

Nasaq, Aljada, Sharjah

Apartment

nasaq1 / luxurious community / New Downtown in sharjah

The Gate, Aljada, Sharjah

Apartment

Luxurious community / The gate / New Downtown in sharjah

Vida Residence Aljada, Aljada, Sharjah

Apartment

ITS **VIDA **RESIDENCE APARTMENT***GET YOUR OFFER NOW**STARTING FROM 884K DHS

Nasaq, Aljada, Sharjah

Apartment

Own in the new downtown Sharjah two bedrooms of the latest smart apartments

Vida Residence Aljada, Aljada, Sharjah

Apartment

Vida Residences | Apartment For Sale

Nasaq, Aljada, Sharjah

Apartment

Luxury 1BHK / Best price/ Prime Location/ 0% Commission

Nasaq, Aljada, Sharjah

Apartment

Nasaq1 / Luxurious community / New Downtown in sharjah

Rehan Apartments, Aljada, Sharjah

Apartment

READY TO MOVE | BEST PRICE | NO COMMISSION

The Gate, Aljada, Sharjah

Apartment

HOT DEAL-AL JADAH -SMART -BRAND NEW

Vida Residence Aljada, Aljada, Sharjah

Villa

Vida Residences The Hills Summary

The Boulevard, Naseej District, Aljada, Sharjah

Apartment

LOW PRICE | HOT OFFER | PERFECT LOCATION

Nasaq, Aljada, Sharjah

Apartment

Smart Homes - Zero Commission - 5% Down Payment

Nasaq, Aljada, Sharjah

Apartment

2BHK FOR SALE - IN DOWNTOWN OF SHARJAH

Nasaq, Aljada, Sharjah

Apartment

Smart Homes - Zero Commission - 5% Down Payment

Misk 2, MISK Apartments, Aljada, Sharjah

Apartment

Exclusive Resale| Ready 2BR APr in Misk Aljada| Madar View | Prime Location

Areej Apartments, Aljada, Sharjah

Apartment

Live in luxury | New Sharjah\'s Downtown

Rehan Apartments, Aljada, Sharjah

Apartment

Low prices | Ready to move in

Nasaq, Aljada, Sharjah

Apartment

5% down payment - smart home - best community in sharjah

Vida Residence Aljada, Aljada, Sharjah

Apartment

Vida Apartments in sharjah 10% DOWN PAYMENT best deal 2Bedroom

Areej Apartments, Aljada, Sharjah

Apartment

Ready To move | BEST PRICE | PRIME LOCATION

Vida Residence Aljada, Aljada, Sharjah

Apartment

Luxury residential apartmentroom and lounge for the first time in Sharjah in advance 5%

Areej Apartments, Aljada, Sharjah

Apartment

Ready To Move 1BR Apartment | Sharjah Down Town | 10% Down Payment | Boulevard View
Find homes by commute time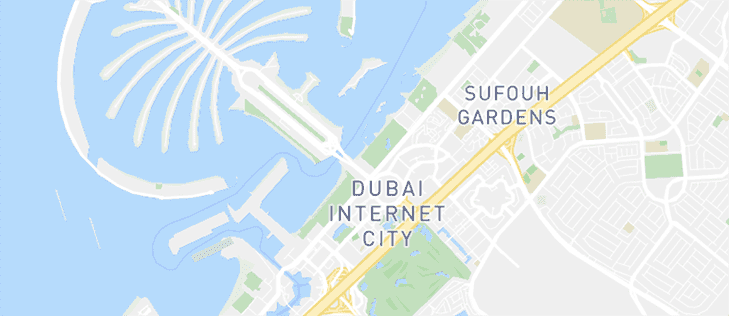 See Listings on the Map
Explore the area
Be the first to hear about new properties
Buying a Property in Aljada
Aljada is a combination of residential and commercial properties developed by one of the most reliable property developers of Sharjah, known as Arada. It is one of the most up-to-date real estate project completed by Arada. The area welcomes all kinds of people and cultures and has something for everyone. Property available for buying is this area contains a number of beautifully designed apartment buildings, townhouses, penthouses, and villas. The properties of Aljada are selling so fast that finding a unit in this area is a matter of luck. Developers have taken care of every residential need and the designs of these properties are taken from the latest real estate edition of Vogue, a globally famous magazine. In addition to that, the residential area of Aljada also has various recreational facilities located within the vicinity.
Types of Properties In Aljada
The residential area known as Aljada offers a variety of apartments, villas, and townhouses for sale for locals as well as immigrants. The size of a studio apartment offers living spaces that range between 291 sq. ft. to 946 sq. ft. The area also offers a number of 1-bedroom apartments with 2-bathrooms, a fitted kitchen and a lounge. These apartments offer plot sizes ranging from 400 sq. ft. to 900 sq. ft. each. Areej Apartments is a building within Aljada that has 2-bedroom and 3-bathrooms apartments available for sale. Each unit in this building offers living space between 900 sq. ft. to 1,400 sq. ft. These apartments are very spacious and offer features, such as double glazed windows, attached bathrooms with modern fixtures, tiled floors, and a spacious balcony. There is an arrangement of 24/7 security. These flats are also centrally air-conditioned. In addition to that, Aljada also has a number of 2 and 3-bedroom houses available for sale. These modern villas contain features such as a lounge and dining area, open and closed kitchens with fitted cabinets, built-in wardrobes, a small garden, and a garage. 2-bedroom townhouses are also available in this area.
Sale Price Trends of Property in Aljada
Price of a studio flat will cost you an average of AED 270,000 to AED 363,000, whereas a 1 to 2-bedroom flat in this area will cost anywhere between AED 310,000 to AED 989,000. However, 2-bedroom villa for sale in Aljada ranges from AED 980,000 to AED 1,200,000. The price of a 3-bedroom house starts from around AED 999,000 and goes up to AED 1,649,000. For people who are looking to purchase a townhouse, the price of a 2-bedroom townhouse in this area falls between AED 899,000 and AED 1,219,000.
Popular Areas In Aljada
There are a number of well-known properties around the residential area of Aljada. The Sharjah Police Academy and the American University of Sharjah both are a few minutes away from Aljada. Restaurants such as Zait Al Zaytoon Restaurant, Crisol Restaurant & Lounge and PizzaExpress offer both traditional and western food; these are also located nearby. Thumbay Hospital Daycare, University City Road, Sharjah, University Hospital Sharjah, and Royal Hospital are all within reach so residents can look after their medical needs while living here.
Reasons for Investing In Aljada
Arada has provided a very luxurious residence at an affordable price. This residential community is at close proximity to every necessity of life. The buildings in Aljada are well-designed. Developers have provided a number of shopping malls, recreational spots, educational institutes, and much more within the community. The prices of these properties often fluctuate depending on the Sharjah real estate market.