Properties with floor plans
Properties for sale in Dubai Silicon Oasis
Last updated date:

Sun, 02 Oct 2022 11:57:30 GMT
250000 to 4200000

AED
Silicon Gates 1, Silicon Gates, Dubai Silicon Oasis, Dubai

Apartment

Very Spacious One Bedroom With Big Balcony

Silicon Gates 1, Silicon Gates, Dubai Silicon Oasis, Dubai

Apartment

Best View | Spacious | Fully Furnished

SP Oasis, Dubai Silicon Oasis, Dubai

Apartment

Amazing Two Bedroom Duplex with Maids Room for Sale in Silicon Oasis

Axis 5, Axis Residence, Dubai Silicon Oasis, Dubai

Apartment

Investment Offer || 1 BR || 330K || DSO

Silicon Avenue, Dubai Silicon Oasis, Dubai

Apartment

Exquisite I Well maintained I Rented I 7.5 % ROI

Binghatti Views, Dubai Silicon Oasis, Dubai

Apartment

Stunning 2 BR | Well Maintained | Excellent Location

Axis 1, Axis Residence, Dubai Silicon Oasis, Dubai

Apartment

Elegant & Large Layout I Closed Kitchen I Rented

Cedre Villas, Dubai Silicon Oasis, Dubai

Villa

Upgraded Villa I Near To Kid\'s Play I Arabic Style

Silicon Heights 1, Silicon Heights, Dubai Silicon Oasis, Dubai

Apartment

FREEHOLD | VACANT | LARGE 1 BEDROOM | MID FLOOR | SILICON OASIS

The Dunes, Dubai Silicon Oasis, Dubai

Apartment

Spacious layout. High floor, Well maintained, Balcony.

Arabian Gates, Dubai Silicon Oasis, Dubai

Apartment

Free Hold on Title Deed I Spacious I Chiller Free

Arabian Gates, Dubai Silicon Oasis, Dubai

Apartment

Fully furnished 1 bedroom Arabian gate Chiller free

Cedre Villas, Dubai Silicon Oasis, Dubai

Villa

Huge Layout | 4 BR + Maid's and Study Room

Spring Oasis, Dubai Silicon Oasis, Dubai

Apartment

Upgraded Unit | Spacious | Chiller free

Silicon Gates 3, Silicon Gates, Dubai Silicon Oasis, Dubai

Apartment

3BHK | Vacant | Best Price | No DLD Fee

Topaz Residences, Dubai Silicon Oasis, Dubai

Apartment

Branded I 1 Bed + Close Kitchen I Balcony.

Cordoba Palace, Dubai Silicon Oasis, Dubai

Apartment

Huge 1 B/R | Vacant | Balcony | Well Maintained | Road View

Sunshine Residence, Dubai Silicon Oasis, Dubai

Apartment

Super Spacious | Duplex | Bright Unit | Must See

Sunshine Residence, Dubai Silicon Oasis, Dubai

Apartment

Exclusive Family 3 BR Duplex Apt. Luxury Living

Axis 8, Axis Residence, Dubai Silicon Oasis, Dubai

Apartment

Opposite to Souq Extra | Bright And Spacious | Best ROI

Palace Tower 2, Palace Towers, Dubai Silicon Oasis, Dubai

Apartment

Studio | Near Choitrams Super Market | Prime Location

Spring Oasis, Dubai Silicon Oasis, Dubai

Apartment

1 B/R Hall │Rented │Roundabout View

Silicon Gates 1, Silicon Gates, Dubai Silicon Oasis, Dubai

Apartment

Chiller Free | High floor | 3 BHK

Binghatti Views, Dubai Silicon Oasis, Dubai

Apartment

Spacious Layout | 1 BR Duplex Type | Good Deal
Popular Searches of Properties for Sale in Dubai Silicon Oasis
Find homes by commute time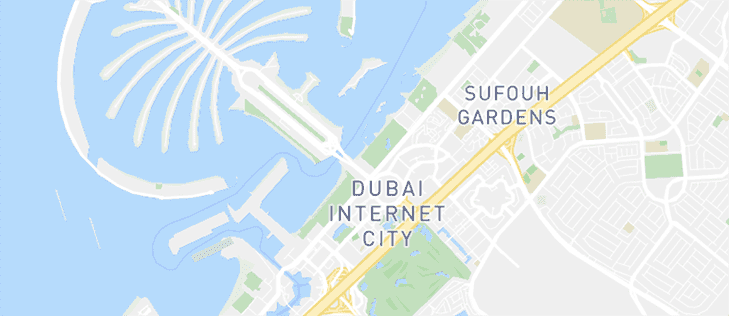 See Listings on the Map
Explore the area
Be the first to hear about new properties
Buying a Property in Dubai Silicon Oasis
Dubai Silicon Oasis is a 7.2 million sq. m. large urban development that features some of the incentivized real estates in Dubai. This means that the companies operating within the community are offered a full package of benefits. It is divided into 5 segments based on residential, commercial, industrial, recreational and educational projects, all of which constitute a wholly government-owned free zone. Dubai Silicon Oasis was established with the vision to expand its business industry by facilitating and promoting modern technology. It is nestled between Academic City and Nad Al Sheba.
Types of Properties in Dubai Silicon Oasis
Dubai Silicon Oasis integrates both working and living environment into the community. The commercial properties in Dubai Silicon Oasis feature furnished or unfurnished offices and shops. The types of office facilities include the Dubai Silicon Oasis Authority (DSOA) Headquarters, DTEC and Technohub 2. The DSOA offices feature a floor size of 160 sq. ft. and above floor areas, which are best for setting up research and development centres and regional offices. Such properties are facilitated by high-speed internet connections, digital system back up and a fire alarm system. Also, they come with a false ceiling, curtains, wallpaper, carpet and raised flooring with power boxes. The DTEC is a centre that accommodates and supports new ventures. It spans around an area of 4,000 sq. m. that can accommodate over 1,000 employees. The centre consists of meeting rooms and conference facilities. Covering up to 20,000 sq. m., Techno Hub 2 is an open plan space designed with high specifications that include meeting rooms, a game room, café and event facilities and a separate area for parking. The Apricot is a fully fitted and furnished workplace, comprising white-based interiors, glass partitions and a kitchenette with a seating arrangement. Boasting over 1,600 deluxe residential units, Dubai Silicon Oasis villas consist of 3 to 5-bedroom layouts. These residential properties are divided into 2 self-contained developments: Semmer Villas and Cedre Villas. Several apartments in Dubai Silicon Oasis are based in low and high-rise towers such as Sapphire Oasis, Silicon Gates and Palace Towers. Currently, there are over 300 apartments available for sale that feature studio flats as well as 1, 2 and 3-bedroom units.
Sale Price Trends of Properties in Dubai Silicon Oasis
Since it is a free zone, Dubai Silicon Oasis offers numerous freehold properties. This lets foreign investors and expats have complete ownership of their property. The price of offices in Dubai Silicon Oasis roughly ranges between AED 350,000 and AED 1,500,000. With the covered area between 861 sq. ft. to 1,564 sq. ft., the offices in IT Plaza are priced anywhere between AED 490,000 and AED 950,000. The shops will cost anywhere between AED 1,308,073 and AED 4,000,000. The general price trend of apartments varies from AED 326,000 to AED 1,600,000. You will find many spacious 3-bed units in Ruby Residence apartments. The buying demand for houses in Cedre Villas starts from AED 1,355,000 and goes up to AED 5,400,000.
Popular Areas of Dubai Silicon City
The iconic tower of Arabian Gate is located near one of the entrances of Dubai Silicon City. Developed by Time Properties LLC, the bold façade of this building features funky lines and trendy colours. This glamourous mixed-use complex has 15 (G+14) floors and 3 basement levels. Consisting of 704 units, the community of Arabian Gate has a significant number of off-plan studio apartments. Another prominent development in Dubai Silicon Oasis is Binghatti Stars, which is centrally located just within a short distance from Silicon Park community. This state-of-the-art of the building highlights contemporary and Middle Eastern architectural styles. The community of Semmer Villas is a medium density residential area. It consists of restaurants and café such as Al Arrab, Copper Kettle and Costa Coffee. Apart from that, it has community pools, a butcher shop, a pet clinic, an exam preparation centre and a beauty parlour called Brown Sugar Hair Salon. It is also close to shopping facilities such as Avenue Mall, Lulu Hypermarket and Carrefour Market. Standing tall and proud in the heart of Dubai Silicon Oasis is a pair of multipurpose buildings called Palace Towers. The amenities in the community of Palace Towers includes Medicure Pharmacy, a therapy centre called Oasi Rejuve and Medicure Polyclinic. It also has close access to Gems Wellington Academy.
Reasons for Investing in Dubai Silicon Oasis
Dubai Silicon Oasis is a smart city with in-house business services, an advanced IT infrastructure and reliable 'venture and entrepreneurial' support for large business units. The state-of-the-art digital ecosystem of Dubai Silicon City has been carefully developed after studying the world's leading technology parks. This mega-development includes various green landscapes and a large park near E311, which is towards the west. Best of all, Dubai Silicon Oasis offers 100% foreign ownership and zero income tax to people who buy and invest in these one-of-a-kind real estates in Dubai. On top of that, the commercial properties for sale in Dubai Silicon Oasis are also void of import and export tax.