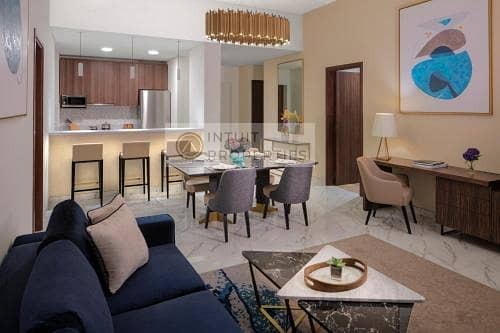 بالم فيوز، نخلة جميرا، دبي
latest & Authentic Price, Fully Furnished 3 BR
An magnificent fully furnished, sea view 3 BR Apartment for sale. 20:80 & 5 YEAR Post Handover PAYMENT PLAN.

This completely outfitted & perfectly planned apartment has best Burj Al Arab and water see from floor to roof rise glass windows, open living and lounge area, jazzy rooms with strolling closets and a smooth, originator and completely fitted kitchen. Regardless of whether hoping to unwind at the sea shore, trust off to the Mall or catch a plane, there could be no simpler spot to live. No traffic, no restrictions, no limitations. Partake in the top notch conveniences inside your arrive at like:• All-including prosperity focus and spa• Middle Eastern cooking café with Shisha patio and show kitchen• World fame Chef forte cafés• Fully practical business place with rousing work areas• Seven Seeds the entire day feasting objective• The Pantry, an in and out speedy stop solid restaurant• A further grown-ups and kids pools• Fully outfitted exercise center with Technogym gear• Multi-reason practice studio Unwind and partake in the most sumptuous private feel with Palm Views. Today, buyers are looking for the ultimate balance. A space that offers them home, entertainment, relaxation and work all at once. At the foot of the Palm Jumeirah and with the view of Burj Al Arab, Palm View is at epicenter of it all, with direct access to all the neighbourhoods like Dubai Marina, JBR, Media City and Internet City to name a few. Within walking distance of the metro, the tram and Sheikh Zayed Road.

Residents only access:
• Private adult and kids swimming pool
• Exclusive access to a number of beach clubs
• Senses Garden
• Outdoor entertaining BBQ areas
• Indoor kids play area with themed age-appropriate zones
• Residents' cinema and bar
• Retail therapy shopping mall
• Golf Simulator
• Residents Lounge and Library
• Majlis
• Private concierge offering full range of
a la carte 5* services
Private concierge services
– 24-hour concierge services
– Doorman
– Mail and package acceptance and delivery
– Luggage assistance
– Transportation assistance
– Valet parking
• Butler & Housekeeping service
– Laundry services
– Grocery stocking
– In-residence dining and event catering
– Personal training in the gym

With your very own exclusive pools, access to some of the best beach clubs in Dubai and so much more you can celebrate with friends, reconnect with family or quietly BBQ under the stars.

Set against the towering skyline of Dubai, Palm View stands tall as the gold standard for refined living. With spaces that peer out at both the glistening city and the glimmer of the sea, Palm View offers unparalleled views, larger-than-life comfort and a tailored focus on design. Bringing together the best of architects and material, Palm View's innovative design and dedication to superior craftsmanship has raised the bar for luxury living.

Location Benefit:
20 Minutes to Downtown Dubai
10 Minutes to Dubai Marina
45 Minutes to DXB Airport
35 Minutes to DWC Airport

To book your site visit, please call Vinay @ .
Intuit Properties was born out of a vision to bring the next level of professionalism in Dubai real Estate brokerage market. We are one of the most trusted UAE-based real estate company today and offer an outstanding portfolio of residential and commercial spaces for sale and leasing. Backed by experienced real estate professionals with experience across India, Dubai and London, we handhold our customers through every step of property buying and offer an unmatched hassle free experience. With a team dedicated towards world class efficiency and customer satisfaction, we believe in giving the best value to its customers.
تفاصيل العقار
نوع العقار

شقة

نوع العرض

للبيع

الرقم المرجعي

بيوت - 2169-Ap-S-0164

العقار

جاهز

تاريخ الإضافة

نوفمبر 29, 2021
الموقع والأماكن القريبة
البحث الشائع
*يتم احتساب هذا البحث الشائع باستخدام خوارزمية عقارية استناداّ إلى أسعار العقارات المعلَنَة على بيوت
**يستند البحث الشائع إلى البحوث التي قام بها مستخدمي بيوت خلال آخر 3 شهور
DED# 924013
RERA# 25626
رقم التصريح# 2090872120
وكيل العقار:
Intuit Properties
عرض جميع العقارات
هذا العقار لم يعد متوفرا بعد الآن