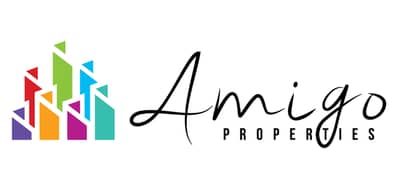 Agents:

Properties:

Service Areas:

Al Raha Beach, Al Reem Island, Saadiyat Island, Al Reef, Yas Island, Masdar City, Al Salam Street, Khalifa City A, Al Samha, Al Raha Gardens, Abu Dhabi Gate City (Officers City), Al Raha Golf Gardens, Al Shamkha, The Marina, Al Maryah Island, Al Khalidiyah, Al Gurm, Zayed City (Khalifa City C), Al Muroor, Al Mushrif, Al Karamah, Al Wahdah, Al Bateen, Mohammed Bin Zayed City, Madinat Al Riyadh, Al Maqtaa, Al Zaab, Shakhbout City (Khalifa City B), Al Shamkha South

Property Types:

Apartments, Penthouses, Townhouses, Villas, Offices, Plots, Villa Compounds

Properties for:
Description
Amigo Properties Where Dreams Come Home A Name You Can Trust Defined By Impeccable Service and Expertise Excellence. Team Work. Integrity Welcome To The World of Amigo Properties "Home is a starting place for love, hope and dreams. " - Keller Williams Almost everyone has a dream home; some dream of four bedrooms with all the luxuries, while others imagine a comfortable space with a killer view. At Amigo Properties, it is our goal to make your dream home a reality. The real estate market is booming in the UAE, and we are at the forefront of that growth. With a team of professionals who understand not just the value of the real estate, but also the emotions that go with building a house, we strive to help you find the ideal house. We take care of everything, right from finding you a home you like or finding the perfect investment opportunity, to helping you get easy loans and setting up the decor of your brand new house! We are UAE's No. 1 realtors and excel at dealing with every aspect of the consumer's needs in the real estate industry. Moreover, we provide an array of services, including property management, property evaluation, and even real estate legal services! When it comes to real estate; you name it, we will provide it! Our Mission and Vision Our mission at Amigo Properties is to modernize and advance the experience of buying and selling real estate by developing a culture of cooperation, creativity, and honesty. Instead of focusing on what we want to sell, we listen to what you want to buy. We try to match every small detail and nuance to ensure you're able to get the house of your dreams! We also aim to create a stellar presence all over the UAE market, and eventually become a global benchmark for excellence when it comes to the real estate industry. What We Do We aim to be a one-stop-shop for all our client's requirements by offering a wide array of services. We are there to guide you through every step of making a house your home. Combined with our core values and advanced expertise, our team of real estate consultants are ready to serve you round the clock. Right from helping sellers set their houses to match the latest trends to helping buyers plan view tours, our team offers well-researched and profound advice. This enables you to make an informed decision, always. After all, buying the house of your dreams is not an easy task! Here's an overview of our services: Property Investment - We focus on helping buyers find their dream homes and investors find the most profitable properties while supporting sellers to sell their property as soon as possible and at the best price as per industry standards. Property Management - We handle every property as if it were our own, and we have multiple years of management expertise. With an average repair ticket time of a few days, our in-house maintenance staff handles all repair requests to the best of our ability. Property Evaluation - Are you wondering how much your home is really worth? Don't worry, we've got you covered. We have a team of experts who have a deep understanding of the current market, and we can help you get a property evaluation to ensure you get the best price when you sell. Real Estate Legal Services - Selling or purchasing a property comes with its own set of legal hassles that can be extremely difficult to understand. This can seriously damper the excitement of buying your new home! At Amigo Properties, we offer comprehensive real estate legal services, ensuring the entire transaction is carried out seamlessly. Interior Services - Increase the value of your property and make it more attractive by using our comprehensive interior services. We will amp up your property based on what's trending on the market to ensure you get the best offers! Mortgage - Are you looking for a mortgage for your new home? Don't let finance be a barrier between you and your dream home. Amigo Properties is your answer! Regardless of the type of property you want to purchase, we provide support and ensure you're able to buy the house of your dreams. How It Works There are many steps involved when it comes to real estate. To ensure there's no confusion, we have created a comprehensive process. Step 1: List Your Property - Create an account with Amigo Properties and list your property for buyers to find. Step 2: Evaluate Your Property - Once listed, we will evaluate your property based on the current market value. Step 3: High-Resolution Photos and Videos - To ensure buyers are able to understand the true beauty of your property, we will take professional photos and videos. Moreover, to ensure buyers have access to accurate information about the property, the pictures and videos are taken by trusted professionals, who capture the real essence of the home. Step 4: 360 Virtual Tour: Buyers are more likely to show interest in a property if they're able to gauge all of it. With our 360 virtual tours, your property is sure to captivate potential buyers. Step 5: Professional Marketing Across The Board - We focus on helping sellers sell their property fast. To ensure we're able to reach maximum potential buyers, we use +50 channels. Partnerships At Amigo Properties, we aim to offer our customers only the best of the best. To achieve this, we have partnered with some of the top developers in UAE, including: Emaar - An Emirati multinational real estate development company located in the United Arab Emirates. Damac - A premier luxury property developer in Dubai, shaping the Middle East's real estate market since 2002. Aldar - A renowned real estate development, management, and investment company with headquarters in Abu Dhabi, United Arab Emirates. Bloom - A group of companies dedicated to developing sustainable and integrated communities that offer an enriching lifestyle and quality of life. Imkan - An Abu Dhabi-based real estate developer with a multibillion-dirham development portfolio spanning four continents. Why You Should Choose Amigo Properties Amigo Properties has climbed the UAE real estate ladder very quickly to emerge as one of the top realtors in this region. Our local expertise also includes current sales data in the region, detailed information about the vendor's status, and general aid to help in the discussions. Check out why buyers and sellers alike prefer Amigo Properties to meet all their real estate needs: A team of experts who have helped us build a strong reputation in the market. The biggest and the best database in the market, ensuring our customers, coming from different walks of life, are able to find what they are looking for. Over 20 years in the market. Real estate experts, who are able to make the perfect buyer-seller matches. High response rate.
Team
Properties
by Amigo Properties
Showing 1 - 12 of 564 Properties sorted by
MAG 5 Residence (B2 Tower), Marina Square, Al Reem Island, Abu Dhabi

Apartment

Urban Living | Huge 2 BR Layout

Mayan 1, Mayan, Yas Island, Abu Dhabi

Apartment

Beautiful View | Spacious One Bedroom | Balcony

Al Maha 2, Al Maha, Al Muneera, Al Raha Beach, Abu Dhabi

Apartment

Luxury Spacious 3 BR w/ Maid\'s room | Pool View

Al Naseem Residence A, Al Naseem, Al Bandar, Al Raha Beach, Abu Dhabi

Apartment

Luxury 3 BR w/ Sea & Marina View

Mayan 1, Mayan, Yas Island, Abu Dhabi

Apartment

Brand New | Full Sea and Golf View | High Floor | Maids Room | Huge Terrace

Ansam 3, Ansam, Yas Island, Abu Dhabi

Apartment

Partial Sea & Golf View | Spacious 2 BR

Al Sana 2, Al Sana, Al Muneera, Al Raha Beach, Abu Dhabi

Apartment

Amazing Location | 1 BHK | Spacious Layout

Al Maha Tower, Marina Square, Al Reem Island, Abu Dhabi

Apartment

Balcony | 2 BHK | Ideal investment

The Gate Tower 3, The Gate Tower, Shams Gate District, Al Reem Island, Abu Dhabi

Apartment

Beautiful 1 BHK with Amazing Sea View

West Yas, Yas Island, Abu Dhabi

Villa

Corner | Spacious Garden | 5 BR w/ Maid\'s

MAG 5 Residence (B2 Tower), Marina Square, Al Reem Island, Abu Dhabi

Apartment

Huge layout | Best Deal | Marina View

Hydra Avenue Towers, City Of Lights, Al Reem Island, Abu Dhabi

Apartment

Lovely 2 BHK Apartment | Great Opportunity