فیلا في بروميليا البراري 6 غرف 14000000 درهم - 4099002
بروميليا، البراري، دبي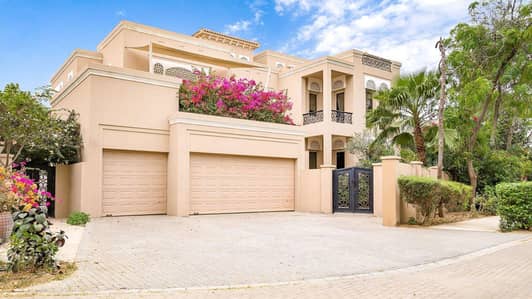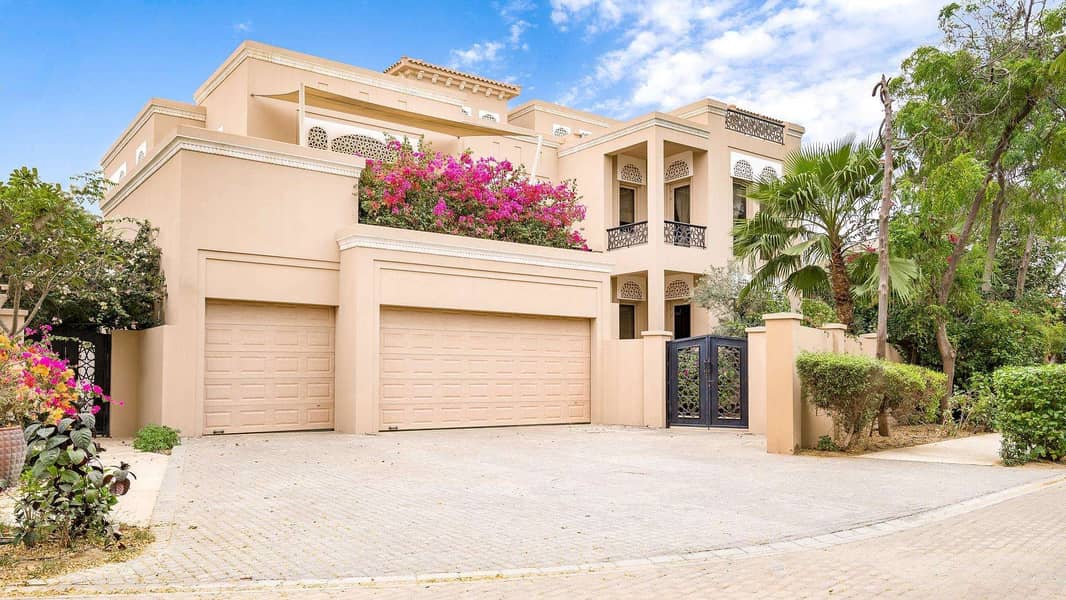 التفاصيل
تفاصيل العقار
نوع العقار

فیلا

السعر

14,000,000   درهم

غرف النوم

6

الحمامات

7

المساحة

14,729 قدم مربع

نوع العرض

للبيع

الموقع

بروميليا، البراري، دبي

الرقم المرجعي

بيوت - LP02692
وصف العقار

Luxury Property is delighted to present this immaculate B type in Al Barari.



This two-level home has an impressive Mediterranean façade with sand-coloured stone, tall rectangular windows and turrets topped by tiled gable roofs. The front gate of the property leads into a tranquil courtyard. Dark wood double doors are set in a recessed entryway, guiding you into a home with a classical but contemporary interior aesthetic that stands in sharp contrast to the fairly traditional exterior. You are welcomed into a double-height reception area with lots of natural light, further brightened up by the decor.



Pale marble flooring, white walls and neutral-toned furnishings and accents work in harmony to create a space that walks a fine line between a family home and minimalist art gallery. The ground floor has an open feel with three flowing reception rooms used with dining and living space. The living room is adjoined by a family room with a widescreen TV. This area flows around to a formal dining room. A stunning kitchen with a stainless steel worktop is located off the dining room. It almost feels like the sort of kitchen you would find in an Italian country home, though stainless steel appliances give it the requisite touch of modernity.



You will also find the master bedroom to your right down the hallway. This beautiful space contains a marvellous walk-in dressing room with light wood shelving to contrast the darker flooring, and a beautiful master bath with dark marble walls, light stone floors and a drop-in tub.



All of the principal rooms on this floor enjoy direct access to the backyard courtesy of floor-to-ceiling sliding glass doors that also allow in plenty of natural light. Each of the 6 bedrooms has warm dark wooden flooring.



The basement of the villa is incredibly spacious and would make an ideal space for entertaining, where you can set up a games room or a lounge.



Going back down and out to the rear of the property, you will find pale stone slabs with a beautiful swimming pool that spans nearly the entire width of the villa and feature blue mosaic tiling that makes the water on the surface shimmer. A small Jacuzzi is located alongside it. From here you can enjoy vistas of the surrounding greenery including groves of trees that seem to stretch out for miles. Unique to this property you will find amazing papaya, lemon and olive trees in the garden. The back gate also leads to a pathway to a nearby community garden and stream at the back of the property.



With a striking exterior and interiors, design and a quiet location within the Al Barari community, this villa would be an excellent choice for our most discerning buyers.



At LuxuryProperty. com we offer a bespoke property finder service for all your real estate needs for Bromellia, Al Barari villas. We are not just property advisors we pride ourselves on our friendly and professional approach making your next property move an easy one.






المزايا والخدمات
نظام تبريد مركزي

مواقف سيارات

سنة إتمام مشروع: 2007

ردهة إستقبال

حديقة

ساحة لعب للأطفال

مكان مخصص للشواء

انترنت واسع النطاق

كابل قنوات تلفزيونية

اتصال داخلي
حاسبة التمويل العقاري
قم بحساب قيمة القسط الشهري لهذا العقار
إجمالي مبلغ السداد على 25 سنة
درهم
15,333,826
المخططات الطابقية
1st Floor Bromellia 2

1st Floor Bromellia 3

1st Floor Bromellia 4

Ground Floor Bromellia 2

Ground Floor Bromellia 3

Ground Floor Bromellia 4
هذا العقار لم يعد متوفرا بعد الآن