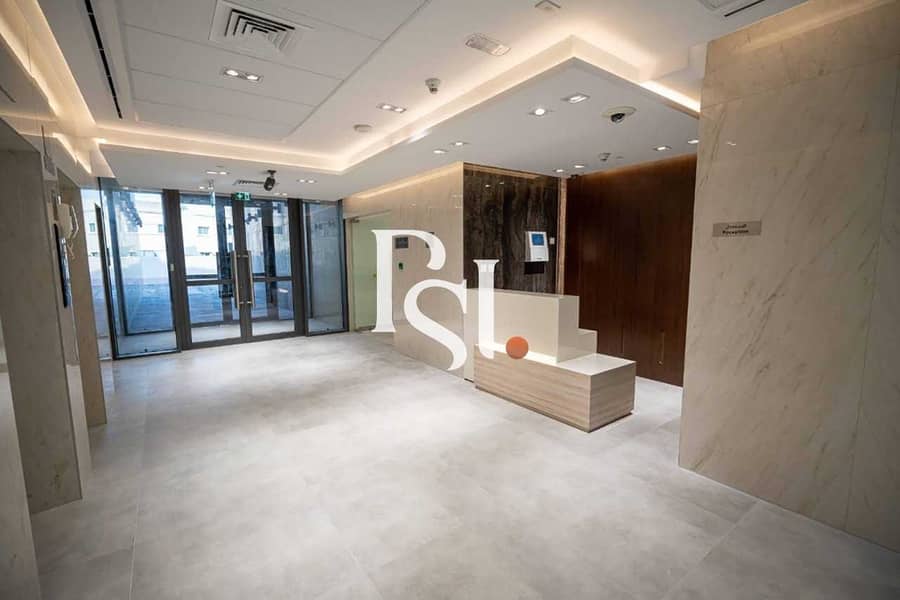 جناين أفينيو، تلال مردف، مردف، دبي
شقة في جناين أفينيو تلال مردف مردف 2 غرف 77500 درهم - 5197196
PSI Real Estate is pleased to offer you this 2 Bedroom Apartment in Mirdif Hills. Spans over a total area of 1600 sqft and come complete with a living/ dining hall, two bedrooms with three bathrooms and kitchen. The modernized plans and state of the art architecture make an optimistic method of living for any individual who tries to carry on with the contemporary way of life and is encircled by luscious greenery, dazzling scene, and ultramodern conveniences that improve your living experience.

Property Features:

2 BHK Apartment
Living/ Dining Hall
3 Bathrooms
Wooden doors and wardrobes
Store Room
Central A/c
Brand New and Bright
Well Maintained building

Facilities and Amenities:
Swimming pool
Childrens pool
Outdoor Jacuzzi
Medical Centres
Nurseries Hotel
Retail outlets
Restaurants and coffee shops
Multi-purpose hall/Community Centre
Covered parking Gymnasium
Recreational facilities
Kids play area
24-hour security and maintenance.

For more info or to arrange a viewing, please call/WhatsApp Sam

RIGHT PLACE,RIGHT TIME.

Dubai is becoming a destination of distinction; one that enriches the lives of residents and visitors every day.
With a sustainable, diversified economy, Dubai has proven itself to be a great place to live in, learn from and do business.

TIMELESS PRESENCE

The Emirates continuous and exhilarating development is characterized by an inspired contrast of heritage and modernity, authenticity and inspiration.
Beautifully blending old with new, Dubai is a beacon for enlightened development that understands the value of its richness in culture.
Midriff Hills is the bold new beating heart of inspired living in this dynamic city.

FAMILY LIFESTYLE

With stunning architecture, inspired finishes and world-class amenities, Midriff Hills provides a variety of unique residences to complement any family lifestyle, set against the backdrop of the spectacular Dubai skyline.
Across three districts: Janayen Avenue, Nasayem Avenue and Al Multaqa Avenue, Midriff Hills is a premium,mixed-use residential, commercial, hotel and retail development across 4 million square feet.
Among intricately landscaped greenery, the development of over 1,500 apartments combines studio, one, two, three or four-bedroom flats and duplex units with state-of-the-art amenities and accessible attractions to keep the family happy, busy and inspired.

JANAYEN AVENUE
Janayen Avenue presents a selection of intricately designed residences, from spacious and characterful three and four-bedroom duplexes to one, two and three-bedroom apartments. In a series of duplex apartments, the apartments are part of a distinct and inspired architectural concept that offers an assuredly comforting community feel.

CONTEMPORARY LIVING

Every detail of living in Nasayem Avenue is of the highest standards.
Starting with the exterior linear gardens and leading into the lobby, a welcoming and stylish interior with the highest of specifications.
In the apartment ultra-modern interiors and contemporary features extending into the spacious and light-filled bedrooms area truly impressive sight.


RESIDENTIAL AND COMMERCIAL DYNAMIC CAPABILITY

As well as a superb selection of purpose-built, premium retail facilities,
Midriff Hills is set apart by its functional capabilities, with a definitive selection of shopping outlets lining its piazza.
Complimented by restaurants, cafes and inspired leisure and entertainment options, whether youre here to eat, drink, shop, play or do business, everything is within reach.

DESTINATION WITHIN A DESTINATION.

In the heart of a thriving family community with all the comforts of the city, enjoy the advantages of an exceptional lifestyle in an inimitable location, one of Dubais most sought-after residential hotspots.
A network of sophisticated, secure and comfortable gated communities, Midriff is close to Dubai International Airport.
The area is easily connected to Dubais leisure and business districts, metro stations and major traffic routes, with good access to all Emirates.
نوع العقار

شقة

نوع العرض

للايجار

الرقم المرجعي

بيوت - 1876-Ap-R-0533

التأثيث

غير المفروشة

تاريخ الإضافة

يونيو 12, 2021
الموقع والأماكن القريبة
هذا العقار لم يعد متوفرا بعد الآن