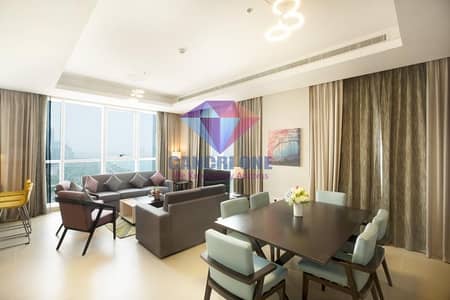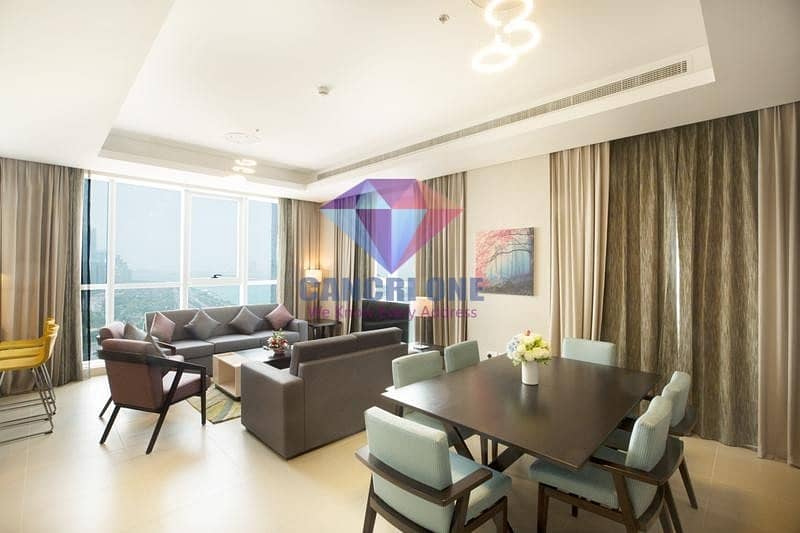 ميرا تايم ريزيدنس، منطقة الكورنيش، أبوظبي
Sea view 2BR Furnished inclusive Utilities.
The apartment is fully furnished and serviced, you will feel at your home like at the hotel!

Full unblocked sea view, right on the corniche

Services and Facilities Included :
Once a week comprehensive cleaning, change of linens and towels (except kitchen utensils)
Free use of fitness facilities
One parking space per apartment
LED TV and free to air satellite channels
Activities Area to play games and to relax. . . . . . . . . . . . .
24Hours Security
Garbage removal

Tawtheeq can be arranged but is not necessary if you don't need it.

Water & Electricity included (if you don't need tawtheeq only) up till 400 AED per month! Gas and Etisalat should be arranged by the tenant.

Located on the waterfront expanse of the dynamic Abu Dhabi Corniche, the luxurious Residence is complete with state-of-the-art facilities. Thirty minutes away from Abu Dhabi International Airport, overlooking the Arabian Gulf, and within the vicinity of Abu Dhabi Mall

For more info and viewing contact Naeem at

Email:



As the Abu Dhabi premier property services firm, CANCRI ONE, combines an unrivaled local market with a global presence. Working with occupiers, investors, and developers of residential and commercial real estate in Abu Dhabi, we provide integrated expertise across all property sectors, including Offices, prime domestic and international residential, retail, and hotel property, and industrial and logistics.
As a full-service real estate business, working in the Abu Dhabi our clients are able to access Comprehensive commercial property and residential advice, through our offices in Abu Dhabi. This drives meaningful value and ensures a joined-up approach as our client-list of Abu Dhabi's property owners and occupiers seek to effectively manage their property interests, both here and abroad.
As one of the largest property brokerages in the Emirate, our extensive Abu Dhabi property database of lease renewals and transactions are unmatched. This provides us with valuable, up-to-date market data and trends so that clients benefit from timely, holistic property services, be it: strategic advice and execution for real estate sales and leasing, tenant representation, research, and property consultancy, including development consultancy, corporate services, property and asset management, property appraisals and valuations.
A homegrown UAE property business, CANCRI ONE, multi-lingual advisers combine an entrepreneurial spirit with a commitment to maintaining long-term, collaborative client relationships. We offer the highest standards of client care were proud of our local roots and of the fact that our clients return to us for ongoing property advice. This is a result of our commitment to attention to detail, quality standards, and global reach, which enables CANCRI ONE to provide a bespoke approach to client services. For more information on CANCRI ONE property management LLC advisory services please contact our team at
or telephone
.
نوع العقار

شقة

نوع العرض

للايجار

الرقم المرجعي

بيوت - 1893-Ap-R-0060

تاريخ الإضافة

نوفمبر 13, 2020
الموقع والأماكن القريبة