Dubai Production City (IMPZ)
Properties for sale in Dubai Production City (IMPZ)
Last updated date:

Sun, 14 Aug 2022 10:00:43 GMT
219999 to 27000000

AED
Centrium Tower 4, Centrium Towers, Dubai Production City (IMPZ), Dubai

Apartment

1 BHK | Vacant | For Sale

The Crescent Tower B, The Crescent Towers, Dubai Production City (IMPZ), Dubai

Apartment

Spacious Studio Canal View Exclusive Unit No Parking

Centrium Tower 1, Centrium Towers, Dubai Production City (IMPZ), Dubai

Apartment

Stunning Apartment | Near to City Centre

Afnan 1, Afnan District, Midtown, Dubai Production City (IMPZ), Dubai

Apartment

Good Community | Best Layout | Spacious Studio

Lakeside Tower B, Lakeside, Dubai Production City (IMPZ), Dubai

Apartment

Exclusive Price |Including Parking | High Rent

Lago Vista A, Lago Vista, Dubai Production City (IMPZ), Dubai

Apartment

Spacious Studio | With Parking | Vacant

Centrium Tower 4, Centrium Towers, Dubai Production City (IMPZ), Dubai

Apartment

Hot Deal / Investor Deal / 1 BHK

Lago Vista B, Lago Vista, Dubai Production City (IMPZ), Dubai

Apartment

Huge Studio With Parking

The Crescent Tower B, The Crescent Towers, Dubai Production City (IMPZ), Dubai

Apartment

Huge Studio / Hot Deal / Investor Deal

Qasr Sabah, Dubai Production City (IMPZ), Dubai

Apartment

Well maintained | Unfurnished 1BHK | Ready to move

Lakeside Tower C, Lakeside, Dubai Production City (IMPZ), Dubai

Apartment

No Balcony | Rented | Large Layout | Mid Floor

The Crescent Tower C, The Crescent Towers, Dubai Production City (IMPZ), Dubai

Apartment

Studio Apartment | With Parking | Crescent Tower C | Mid Floor | IMPZ

Dania 5, Dania District, Midtown, Dubai Production City (IMPZ), Dubai

Apartment

2BHK + Maids | Payment Plan Available | Ready to Move-in

Noor, Noor District, Midtown, Dubai Production City (IMPZ), Dubai

Apartment

A World Of Your Own | Great investment | InquireNw

Centrium Tower 1, Centrium Towers, Dubai Production City (IMPZ), Dubai

Apartment

Amazing Deal | Magnifique Unit | Motivated Seller | 100% Vastu Compliant

H40 Building, Dubai Production City (IMPZ), Dubai

Residential Building

New Building and Expected Excellent Income

Afnan 1, Afnan District, Midtown, Dubai Production City (IMPZ), Dubai

Apartment

Beautiful And Bright 2BHK For Sale With Amazing View And Great Quality

The Crescent Tower A, The Crescent Towers, Dubai Production City (IMPZ), Dubai

Apartment

Lake View | Vacant | High Return | No Parking

Lakeside Tower A, Lakeside, Dubai Production City (IMPZ), Dubai

Apartment

Investor Deal | Attractive ROI | Rented 19k

Centrium Tower 4, Centrium Towers, Dubai Production City (IMPZ), Dubai

Apartment

2 Bed Room+Maid Room With Balcony and Separate Laundry on higher floor

Lago Vista A, Lago Vista, Dubai Production City (IMPZ), Dubai

Apartment

Hot Deal | Ready to move in | Tenanted |High Floor

Afnan 4, Afnan District, Midtown, Dubai Production City (IMPZ), Dubai

Apartment

Rented until 2-2023 | Unfurnished | Big Layout

Afnan 2, Afnan District, Midtown, Dubai Production City (IMPZ), Dubai

Apartment

Elegant 1 Bed, Fully Furnished, Park View, Vacant

Lakeside Tower B, Lakeside, Dubai Production City (IMPZ), Dubai

Apartment

High Floor l Community View l Great Location
Find homes by commute time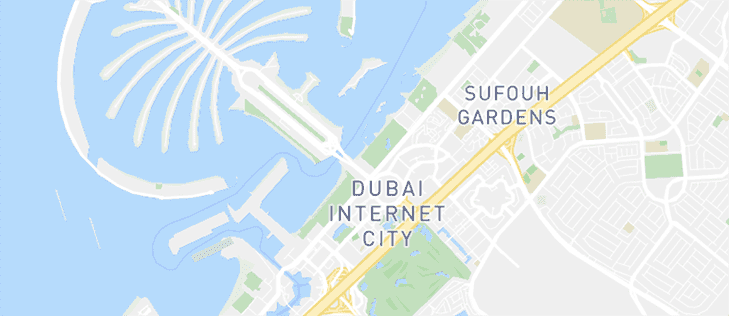 See Listings on the Map
Explore the area
Be the first to hear about new properties
Popular Searches of Properties for Sale in Dubai Production City (IMPZ)
Buying a Property in Dubai Production City
Dubai Production City (DPC) previously known as the International Media Production Zone (IMPZ), is a free-zone development which was launched back in 2003. It is the first fully-fledged media hub in the Dubai real estate market. Its main aim was to encourage development of the entertainment and production industry in the United Arab Emirates (UAE). A business central, DPC houses expert professionals from all over the world, providing complete business, retail and residential solutions to its residents. Covering an astounding land mass of around 43,000,000 sq. ft., DMC allows international and domestic publishing, printing and production industries to shine and grow.
Types of Properties in Dubai Production City
Dubai Production City is a mix-use development, which means that the properties in the community range from residential – mostly flats – to offices, shops and even commercial warehouses. The flats for purchase in Dubai Production City are usually in 16 to 26-storey high-rise buildings with very urban and modern architectural designs. The flats typically offer studios and 1, 2 and 3-bedroom apartments that span as wide as 317 to 512 sq. ft., 650 to 1,182 sq. ft., 1,018 to 1,327 sq. ft. and 1,360 to 2,476 sq. ft. respectively. There are also some commercial properties for sale in Dubai Production City mostly limited to shops, offices and warehouses. Despite the fact that the development features mostly apartments instead of villas, the flats nonetheless come with some of the best amenities and facilities. Almost all of these apartments come fitted with brilliantly made built-in wardrobes, neat marble flooring, walk-in closets, latest fixtures, wide and spacious balconies, personal car parking, swimming pools, Jacuzzi, sauna, steam rooms, laundry facility, communal gardens, round the clock maintenance and security staff, sports facilities, dedicated barbecue and kids play area and separate accommodations for the house help.
Sale Price Trends for Properties in Dubai Production City
The prices of most properties in DPC are quite affordable when compared to the neighboring communities of JVT, Dubai Sports City or even Discovery Gardens for that matter. Studios for sale in Dubai Production City however, have prices that begin at AED 300,000. For 1-bedroom units, one can expect to pay around AED 500,000. 2-bedroom flats have prices that start off at AED 760,000 while 3-bedroom apartments in DPC cost approximately AED 1,000,000.
Popular Areas of Dubai Production City
There is a high number of offices for different channels, publishing & production houses and media agencies in the vicinity of the community, with some of the famous ones being the 7 Production & Events, MGP World, McCollins Media, ALPHA Printing Press and Publishing Pavilion. There are also a lot of malls, supermarkets and other such establishments in the enclave of the locale, catering to the necessities of the residents. A Carrefour sits next to City Center Me'aisem on the bend leading up to Swiss Mart and Oakwood Residency in Dubai Production City. There are also several mosques, hotels and top-notch eateries in the community with residents mostly frequenting The Big Wok, Wadi Express, MoMo, Chili's and the Flame Tree Restaurant towards Jumeirah Golf Estate.
Reasons for Investing in Dubai Production City
First and foremost, people considering to buy property in DPC get to benefit from the many free-zone privileges that could possibly ease their business operations if they are thinking of investing here. However, the community also offers many employment opportunities, so many people working in Dubai Production City tend to live in it for the sheer convenience, cost-effective housing options and a great location which provides easy access to major landmarks of the emirate.