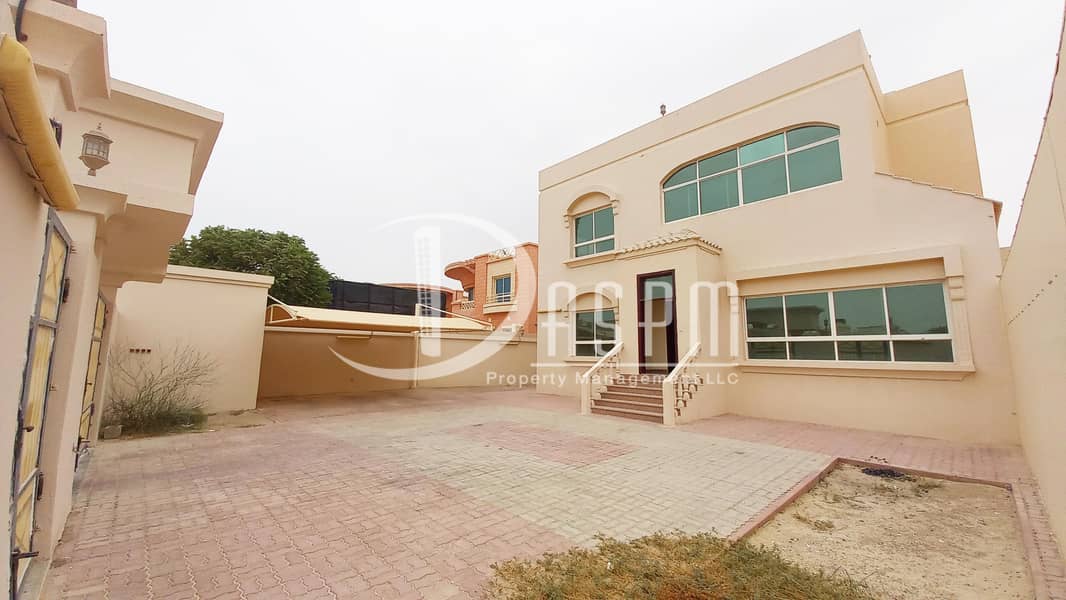 مدينة شخبوط (مدينة خليفة ب)، أبوظبي
فیلا في مدينة شخبوط (مدينة خليفة ب) 5 غرف 130000 درهم - 6173412
Here we go with the best deal in the market !!!!!
Let's jump into details :

- Stand alone villa
- Huge yard
- big spaces
- 5 beds
- Shaded Parking
- Huge Sala
- Amazing location close to main road
- Asking Price 130k!

Don't miss the chance , call Ahmed on :

Shakhbout City, a suburb of Abu Dhabi, islocated southeast of the future Capital District. Khalifa City B is arelatively new community in transition. The Masterplan is predicated oncarrying forward the vision expressed within Plan Abu Dhabi 2030. It is alsointended to promote development and embrace Estidama sustainable principles. The Khalifa City B master plan, initiated inAugust 2008, consists of three components:§ A master plan for the existing Khalifa City B neighbourhood thatimplements quality public spaces and community facilities§ A master plan for the Khalifa City B gateway area that focuses oncreating a vibrant new mixed use area between the existing neighbourhood andhighway§ Design guidelines for all new developments whilst ensuring highquality neighbourhoods in the existing Khalifa City B and providing forresident's needsDevelopmentobjectivesThe assigned objectives for the Khalifa BMasterplan are stated to ensure that it promotes a sustainable approach andcreates an environment that can evolve through the years and stand the test oftime, as follows:§ Create a Masterplan that elevates the quality of life for residentsby providing a complete community with high quality amenities. To insertcommunity and public facilities into the existing Khalifa City B Emiratihousing community§ Provide a Masterplan that creates a mixed-use community whileintegrating the undeveloped strip between the existing Emirati neighbourhoodswith the Gateway, Central Spine, and Northern Spine. Also, incorporating theland use, transportation, natural resources and sustainability principles andpractices of Plan Abu Dhabi 2030§ Provide a Masterplan that specifies land uses, development patternsand densities, public facilities and amenities within all undeveloped areas ofKhalifa City B§ Provide improved connectivity for vehicles, cyclists andpedestrians. Create neighbourhoods that are walkable, with improvedstreetscapes that are both safe and enjoyable. Integrate mass-transit andtransit supportive density as a development pattern in the study area. Locatecommunity amenities that are walkable destinations§ Provide an illustrated set of Development Requirements thatprescribe design elements such as allowed uses, building size, setbacks,encroachments, plot entry, landmark elements etc. for all plots excludingexisting villa plots. Developmentrequirements The process beganwith a thorough site analysis of the Masterplan area and understanding of theregional context, including the goals and objectives of Plan 2030. Thedevelopments in Khalifa City B will be regulated via:◾Development standards: to determine thebuilding type, permitted land uses, building heights and other compulsorystandards◾Development guidelines: to suggestarchitectural and site design considerations◾Plot specifications: to outline theboundaries of plots and specific information that relates to each plottype The overall Masterplan includes appropriate transit and transportationlinkages to the Capital District, Mafraq, and areas to the east. It alsoevaluated proposed adjacent land uses in the Capital District to ensurecompatibility. The Emiratineighbourhood The focus in the Emiratineighbourhoods is to develop community facilities that are designed andpositioned to best benefit Emirati residents. Refinement of the design includeddistribution analysis and conceptual design of individual community facilitiessuch as parks, schools, retail and mixed-use nodes and neighbourhood mosques. The design alsoincluded improved streetscapes and pedestrian networks as well as infill villaplots in underdeveloped areas.
معلومات عن العقار
نوع العقار

فیلا

نوع العرض

للايجار

الرقم المرجعي

بيوت - 1792-Vl-R-0498

تاريخ الإضافة

يوليو 26, 2022
البحث الشائع
*يتم احتساب هذا البحث الشائع باستخدام خوارزمية عقارية استناداّ إلى أسعار العقارات المعلَنَة على بيوت.
**يستند البحث الشائع إلى عمليات البحث التي قام بها مستخدمي بيوت خلال آخر 3 شهور.
الموقع والأماكن القريبة