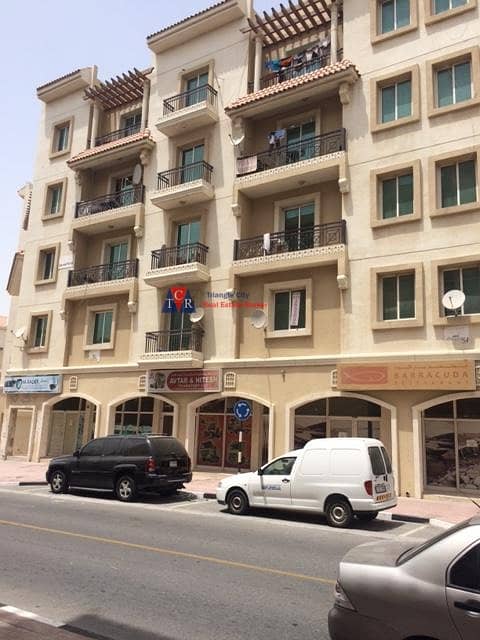 الحي اليوناني، المدينة العالمية، دبي
Hot offer in Greece cluster front side shop for sale.
Dear Valued buyers and investors
Triangle city real estate broker is delighted to offer you shop for sale in Greece cluster IC1 Dubai , selling price 530k net to owner

ready shop

front side

vacant on 1/12/2021

Greece cluster

721 sqft net area

with bath room

with kitchen

Pictures are for illustration purpose only

Feel free to contact for more assistance and viewing our area specialist and rera certified broker Akram Jorge
BRN 25195 ORN 2617

Dubai International city is a country-themed architecture of residences, businesses, and tourist attractions. Spreading over an area of 800 hectares (8 million square meters), the arrangement of the city is inspired by the traditional carpets of Middle East. Once completed, the project will contain studio and one bedroom apartments and accommodate over 60,000 residents. Dubai International City is located in the Al Warsan region of Dubai, opposite to the Dubai Central Fruit and Vegetable Market . Contents

The Residential District is expected to have numerous country-specific and themed residential developments and retail outlets. The plans include ten country-specific districts— China; England mirroring traditional London architecture, France district featuring residential blocks characterized by long French windows, red and gray bricks, and pilasters or half-columns; Persia district situated in the heart of the residential district; Greece district; Russia district, the northernmost residential district; Spain District featuring three- and four-storey buildings designed according to traditional stucco exterior finish; Morocco district; Italy district; Emirates district. The Central District consists features building security, pools, private parking, gyms and parks, shopping areas. [1][2] Other areas include the Lake District.


Inspired by the Forbidden City of Beijing, China, an area of 240,000 square metres with parking facilities for 2,000 cars is being constructed. [3] Chinamex's DragonMart, developed by Nakheel, is a large mall for wholesale purchase of Chinese products. The mall has been a commercial success and construction has started on a second mall adjacent to Dragon Mart that will have 175,000 square metres of space and 4,500 parking spaces. The project was completed in December 2015. [4]Launched in 2013, Warsan Village is located at the periphery of International City. This enclave within International City features 942 townhouses and 250 apartments. [5] Construction was finished in Q3 2019. [6]There are a number of hospitals and medical clinics in the vicinity. For driving license related (Road & Transport Authority Dubai) eye testing and medical tests for commercial taxi drivers or new drivers can be completed from Apple International Polyclinic. Recent regulations implemented by the Municipality of Dubai, will greatly address the prevalence of Shisha [Arabic Tobacco] parlors housed in many buildings.
Triangle City Real Estate Broker is a professional organization established in 2010, provides efficient solutions to property selling, buying & renting of apartments, villas, offices, retail spaces & business in all around UAE. Triangle City Real Estate Broker has a variety of certified real estate brokers, who consistently offer specialist knowledge and personal attention to the valued clients, building trust through transparency in all of the dealings. Having an excellent understanding of clients' need, properties and real estate services are ultimate to match clients' requirements. We strive for excellence in all we do; innovation in our style of work, professionalism at all time, honesty with our clients and partners, integrity in our daily life and first-class services to our clients.

Disclaimer
These particulars are intended to give a fair description of the property but their accuracy cannot be guaranteed, and they do not constitute an offer of contract. Intending purchasers must rely on their own inspection of the property. None of the above appliances/services have been tested by ourselves. We recommend purchasers arrange for a qualified person to check all appliances/services before legal commitment.
تفاصيل العقار
نوع العقار

محل تجاري

نوع العرض

للبيع

الرقم المرجعي

بيوت - 845-AKR-Sp-S-1631

العقار

جاهز

تاريخ الإضافة

نوفمبر 24, 2021
الموقع والأماكن القريبة
البحث الشائع
*يتم احتساب هذا البحث الشائع باستخدام خوارزمية عقارية استناداّ إلى أسعار العقارات المعلَنَة على بيوت
**يستند البحث الشائع إلى البحوث التي قام بها مستخدمي بيوت خلال آخر 3 شهور
هذا العقار لم يعد متوفرا بعد الآن