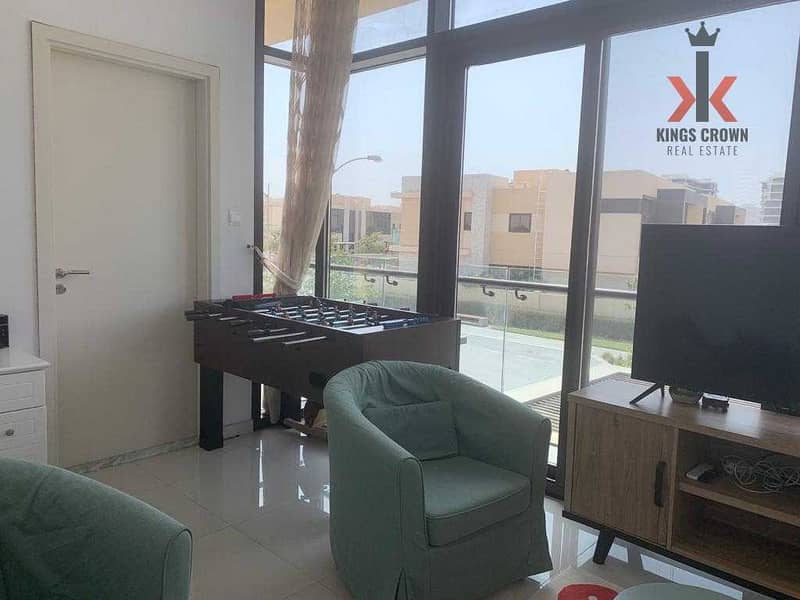 فیلا في ترينتي داماك هيلز 3 غرف 2550000 درهم - 5452412
PROPERTY DESCRIPTION:
Unit Area: 2,723.27
Fully Furnished
Community View

DESCRIPTION:
Trinity is a sub-community of DAMAC Hills (Akoya by DAMAC) also known as Damac Hills. Located in the heart of Dubailand, the residential community is a product of master developers DAMAC Properties. Trinity is a gated-community offering both villas and townhouses. It is a green community with modern facilities. The residential units offer luxurious amenities and facilities to the tenants.

IN A NUTSHELL
Located in the popular golf community of Dubai
Easy to access major spots of the emirate via Hessa Street, 12 minutes away
Trump International Golf Club is 11 minutes away

COMMUNITY OVERVIEW
Popular points of interest in the community are:
Private garden
Trump International Golf Club
The residential units are set amongst lush green landscapes, brooks and streams. This makes Trinity an ideal place to live for nature-loving people.

TRANSPORTATION AND PARKING SPACES IN TRINITY
For transportation in Trinity, residents can avail bus or metro service from the neighboring communities. Mudon Al Salam Town Centre, Arabian Ranches 2, The Sustainable City and Studio City Operation Office 2 are a few of the bus stations nearby. Nakheel, DAMAC Properties and Dubai Internet City Metro Station are accessible on a 20-minute drive.

Parking spaces in Trinity is not an issue for residents. The villas offer covered parking spot for a minimum of 2 cars.

SUPERMARKETS NEAR TRINITY
For daily grocery shopping, tenants have multiple options nearby. Geant Express Supermarket Mudon is located 8 minutes away. It is a one-stop-shop destination for essentials like dairy products, fresh food, organic products and bakery items. Other supermarkets near Trinity are Carrefour in The Ranches Souk and Zoom Supermarket, both located at a distance of 10-minutes by car.

MOSQUES NEAR TRINITY
Mudon Mosque and Al Madinah Al Mustadama Mosque are located in the neighbouring communities and convenient for residents as both are a 10-minute drive away via Al Hessa Street. Al Eman Mosque and Al Adel Mosque are other mosques near Trinity.

Residents can find a handful of churches near Trinity. St. Francis of Assisi Catholic Church, Christ Church Jebel Ali and St. Mina Coptic Orthodox Church is accessible on a 23-minute drive.

SCHOOLS NEARBY:
Akoya Nursery
Blossom Mudon Nursery
Wonder Years Nursery
Jebel Ali School
Ranches Primary School
GEMS Metropole School

Residents will find both the academic hubs in Dubai at a short distance of 20 minutes. Knowledge Park features University of Wollongong Dubai, Middlesex University and many more. While Academic City includes Zayed University, Manipal Academy of Higher Education and more

Hospitals near Trinity include:
Mediclinic Parkview Hospital
Saudi German Hospital
Al Zahra Hospital

Mediclinic Parkview Hospital is the third hospital of Mediclinic Middle East in the emirate and seventh in UAE with the same international standards for healthcare services and treatments. The hospital offers services for obstetrics, pediatrics, dentistry and radiology. It is located 16 minutes away from the community.

Saudi German Hospital is a 17-minute drive away while Al Zahra Hospital is accessible on a 21-minute drive via Sheikh Muhammad Bin Zayed Road E311.

Aster Clinic, The Chiron Clinic and Your Health Clinic are a few of the clinics near Trinity. Aster Clinic has set the benchmark for healthcare clinics in the region with its developed health standards, the clinic is 10 minutes away from the neighborhood. Your Health Clinic is 12-minute away while The Chiron Clinic is accessible in a 10-minute drive.

To meet the growing demand for medicine, Life Pharmacy in The Sustainable City is serving the patients. One can find it at a short drive of 10-minutes. Other pharmacies nearby include BinSina Pharmacy and Community Pharmacy.

NEARBY AREAS
Residential areas nearby included:
Mudon
The Sustainable City
Arabian Ranches
Mudon is located in the heart of DubaiLand with 24/7 security. The residential community provides a tranquil yet active lifestyle to its tenants. The community offers townhouses, villas and apartments with access to vast amenities. On the north-east side of Trinity, The Sustainable City is located. It is an eco-friendly residential community with spacious villas and townhouses.

Popular entertainment spots near the community are,
Cheeky Monkeys
Dubai Parks and Resorts
Dubai Aquarium and Underwater Zoo
Cheeky Monkeys is a soft play and birthday party venue for children. It provides children with an interactive environment to play and learn while making new friends. Cheeky Monkeys offers 5-level play structure with trampolines, slides and climbers.

Visitors can enjoy a thrilling experience with the whole family at Dubai Parks and Resorts. It has three theme parks - LegoLand, Motiongate Dubai, Bollywood Parks and one water park, LegoLand Water Park. There are more than 100 indoor and outdoor rides and other fun activities to make your day out a memorable one.

RESTAURANTS NEAR TRINITY
Residents can choose from these restaurants at City Centre Me'aisem,

NEARBY SHOPS:
Gazebo
Paul
Starbucks
Subway
Patchi
Baskin Robin

A few of the established restaurants near Trinity are,

Lucky's Pizza & Restaurant
Abatjour Bistro
Carluccio's
Located at a walking distance from the community, Lucky's Pizza offers a unique combination of pizza and Boba tea. Other than pizza, the restaurant has seafood, fried chicken, wings and salad in their menu also. One can enjoy authentic Mediterranean cuisine at Abatjour Bistro, 8-minute away.

COMPANY PROFILE:
Kings Crown Real Estate, established in 2017, is one of the leading real estate companies in the United Arab Emirates, offering a complete property experience. We work in pursuit of service excellence and we are committed in every area of the real estate industry.

Offering a premium, professional and flexible service to customers, KINGS CROWN provides an extensive list of properties for sale and lease and this is complemented by a full property management list of services.

OBJECTIVE:
To provide comprehensive and integrated property services and solutions to landlords, buyers, tenants, developers, and property investors. OUR TEAM is made up of highly skilled and dynamic multinational experienced professionals with in depth knowledge of the local property market dedicated to meeting our clients and investors requirements.

The only two words you need to know for honest answers. "KINGS CROWN"
نوع العقار

فیلا

نوع العرض

للبيع

الرقم المرجعي

بيوت - 2786-Th-S-0005

العقار

جاهز

التأثيث

المفروشة

تاريخ الإضافة

أكتوبر 14, 2021
الموقع والأماكن القريبة
البحث الشائع
*يتم احتساب هذا البحث الشائع باستخدام خوارزمية عقارية استناداّ إلى أسعار العقارات المعلَنَة على بيوت
**يستند البحث الشائع إلى البحوث التي قام بها مستخدمي بيوت خلال آخر 3 شهور
DED# 919494
RERA# 25856
رقم التصريح# 69246808337
وكيل العقار:
Haythm Soliman
عرض جميع العقارات
هذا العقار لم يعد متوفرا بعد الآن