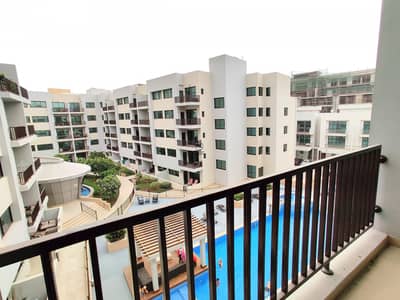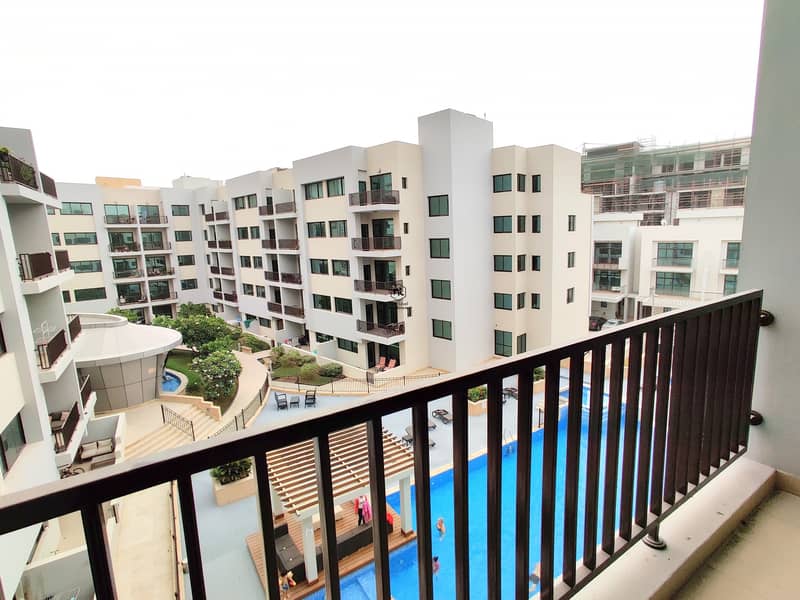 لا ريفييرا ايستيتس، قرية جميرا الدائرية، دبي
POOL VIEW | RENTED UNIT | LUXURIOUS BUILDING | MID FLOOR
Luxurious residential building offering spacious one-bedroom apartment resides amid luscious landscaping. Located in Jumeirah Village Circle.

Elegance and sophisticated. Designed to overlook the central and scalped area. Quality finishes combined with exceptional design elements ensure excites your senses and captures your imagination.

Uniquely designed fully glassed balcony doors; as the glass doors sides open, fresh air and sunshine flood into your personal living spacelike a picture window with nothing between you and the elements.


Key Features:

- One reserved parking space per apartment
- Uniquely designed apartment entrances offering privacy
- Built-in closets in each bedroom
- Laundry/utility area
- Italian style fitted kitchen
- Contemporary yet functionally styled bathrooms
- 746.69 sq. ft.
- Alley View
- Rented
- AED 450,000/- selling price About Community :

Jumeirah Village Circle is an emerging freehold community where all types of property are available: villas, apartments, townhouses, offices, retail and plots for development. It is great location, easy to reach Al Khail road, SZR, E311

Jumeirah Village Circle provides a beautiful, self-contained environment for residents, with all the modern facilities of a city in tranquil village setting. Designed to cater for the whole family, Jumeirah Village Circle features sports fields, schools and mosques clustered throughout the abundant green parks of the development.




Call our Senior Property Adviser for more information or viewing on :


If you choose to engage with NEXT LEVEL REAL ESTATE, we can guarantee you that you will receive the finest customer-focused, transparent and productive real estate services. Please get in touch with us if you would like to list your property and participate in our exclusive marketing campaigns to one of the biggest database.


Next Level Real Estate provides incredible solutions to property related concerns. If you are looking to sale or rent, our ideal property related services will give you all the answers to your problems. Our up to the minute skills, marketing experience and dedicated team make maximum efforts to let your property be known to all. We understand the worth of connection between people and their properties. This propels us to go the extra mile and provide highly suitable places with sufficient security for our valued clients.

Next Level Real Estate is established since 2013 , and has been the driving force behind some of the greatest: corporate, institutional, private residential land commercial sectors across Dubai. Next Level is one the UAEs leading Real Estate agency. In addition, Next level Real Estate into developing residential & commercial projects throughout the GCC Region. We pride of our reputation and our loyal clientele. Under the umbrella of Next Level Real Estate, Property Manager is offering the property management services and supervision services with a professional method, our goal is to provide you a peace of mind and make the most of the value of your property while ensuring your property is secure at all-time physically and financially. As our key of business is that right from the start, it is always and will be exploring the right places for valuable clients to live, it is about people and their homes. People and their properties will always be cared from the heart of what our brand name stands for Our Capability. We are in process of providing the services of property management thru all-inclusive letting process, right from the advertising to leasing of your property along with to taking care of all the activities that come with it, such as tenancy contracts, move in going-over, Ejari process, rent collection, property maintenance, annual reports and disagreement resolution.


تم تأسيس نكست ليفل للعقارات منذ عام 2013 ، وكانت القوة الدافعة وراء بعض من أكبر: الشركات والمؤسسات وقطاعات الأراضي السكنية الخاصة في جميع أنحاء دبي. نكست ليفل هي إحدى الوكالات العقارية الرائدة في دولة الإمارات العربية المتحدة. بالإضافة إلى ذلك ، عقارات المستوى التالي في تطوير المشاريع السكنية والتجارية في جميع أنحاء منطقة دول مجلس التعاون الخليجي. نحن نفخر بسمعتنا وعملائنا المخلصين. تحت مظلة Next Level Real Estate ، يقدم Property Manager خدمات إدارة الممتلكات وخدمات الإشراف بطريقة احترافية ، وهدفنا هو أن نوفر لك راحة البال والاستفادة القصوى من قيمة الممتلكات الخاصة بك مع ضمان أن الممتلكات الخاصة بك آمن في جميع الأوقات ماديًا وماليًا. نظرًا لأن مفتاح عملنا هو ذلك منذ البداية ، فهو دائمًا وسيستكشف الأماكن المناسبة للعملاء ذوي القيمة العالية للعيش ، إنه يتعلق بالأشخاص ومنازلهم. سيتم دائمًا الاهتمام بالناس وممتلكاتهم من صميم ما يمثله اسم علامتنا التجاريةقدرتنا. نحن في طور تقديم خدمات إدارة الممتلكات من خلال عملية التأجير الشاملة كليًا ، بدءًا من الإعلان وانتهاءً بتأجير الممتلكات الخاصة بك جنبًا إلى جنب مع الاهتمام بجميع الأنشطة التي تأتي معها ، مثل عقود الإيجار ، انتقل إلى- أكثر من عملية إيجاري وتحصيل الإيجارات وصيانة الممتلكات والتقارير السنوية وحل الخلافات.
tama tasis naksat liafl lileiqarat mundh eam 2013 , wakanat alquat alddafieat wara' bed min 'akbara: alsharikat walmuasasat waqitaeat al'aradi alsakaniat alkhasat fi jmye 'anha' dubay. naksat liafl hi 'ihda alwikalat aleaqariat alraayidat fi dawlat al'iimarat alearabiat almutahadati. bial'iidafat 'iilaa dhlk , eiqarat almustawaa alttali fi tatwir almasharie alsakaniat waltijariat fi jmye 'anha' mintaqat dual majlis altaeawun alkhaliji. nahn nafkhar bisameatina waeumilayina almukhlsin. taht mizalat Next Level Real Estate , yuqadim Property Manager khadamat 'iidarat almumtalakat wakhadamat al'iishraf bitariqat aihtirafiat , wahadafna hu 'an nuafir lak rahat albal walaistifadat alquswaa min qimat almumtalakat alkhasat bik mae daman 'ana almumtalakat alkhasat bik aman fi jmye al'awqat madyana wmalyana. nzrana li'ana miftah eamilna hu dhlk mundh albidayat , fahu daymana wasayastakshif al'amakin almunasibat lileumala' dhwyi alqimat alealiat lileaysh , 'iinah yataealaq bial'ashkhas wamanazilihim. sayatimu daymana alaihtimam bialnnas wamumtalakatihim min samim ma yumathiluh aism ealamatina altijariaqadratana. nahn fi tawar taqdim khadamat 'iidarat almumtalakat min khilal eamaliat altaajir alshshamilat klyana , bd'ana min al'iielan wantha'an bitajir almumtalakat alkhasat bik jnbana 'iilaa janb mae alaihtimam bijmie al'anshitat alty tati maeaha , mithl euqud al'iijar , aintaqal 'iilaa- 'akthar min eamaliat 'iijariin watahsil al'iijarat wasianat almumtalakat waltaqarir alsanawiat wahali alkhilafati.
نوع العقار

شقة

نوع العرض

للبيع

الرقم المرجعي

بيوت - 291-Ap-S-19684

العقار

جاهز

تاريخ الإضافة

أكتوبر 27, 2020
الموقع والأماكن القريبة