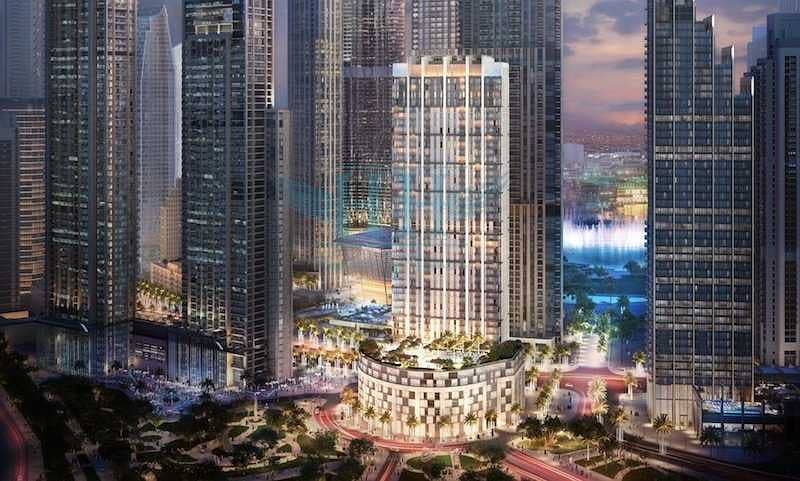 برج كراون، وسط مدينة دبي، دبي
شقة في برج كراون وسط مدينة دبي 2 غرف 1867888 درهم - 4784211
Heavenly Homes Real Estate are delighted to offer a 2 Bedroom Apartment by Emaar - Burj Crown, Downtown Dubai.
Special Offers of 60I40 2 Years Post Handover Payment Plan & 50% DLD Waiver!

BURJ CROWN Promises Opulence Laced with Modern Amenities and World-Class Comforts.

Details:
* Selling price: AED 1,867,888
* Build Up Area: 998 sq. ft
* Accessible to The Dubai Mall and Burj Khalifa
* High class Gymnasium
* 2 BR w/ en-suites bathrooms
* Stunning views of The Dubai Fountain
* Swimming Pool, Party Hall & Restaurants
* State of the Art Finishing
* 50% mortgage for non-residence
* Potential 8% rental market
* UAE residency upon property handover

For Further details contact our agent on

10% Down Payment on Booking
5% 1st - 8th Installment Every 5 Months from booking
50% - 100% Construction Completion

Estimated completion date - October 2023.

Theres living, and then theres Burj Crown living. Rising on the vibrant Sheikh Mohammed bin Rashid Boulevard, the 44-storey tower boasts 1-, 2- and 3-bedroom apartments with priceless views of Dubais landmarks and an abundance of shopping, cultural, entertainment and culinary experiences all at your fingertips.

Flanked on each side by major roads, Sheikh Zayed Road to the west and Al Khail Road to the east, Downtown Dubai has unfettered access to the rest of the city and beyond.

Urban sophistication with contemporary simplicity has been the primary goal for the design approach of the Burj Crown interiors. The exquisitely crafted 1-, 2- & 3- bedroom apartments are the epitome of understated luxury.

At Burj Crown, convenience, wellness and entertainment are at the forefront of importance. Savour every lasting moment of free time as sweeping panoramic views, and vibrant greenery adorn the lavish facilities purposefully designed to enrich your day-to-day life.

Burj Crown enjoys a prestigious location on the trend-setting Sheikh Mohammed bin Rashid Boulevard. From here, it's just a short stroll to Dubai's premier landmarks including Burj Khalifa, The Dubai Mall, The Dubai Fountain, Dubai Opera and Burj Park.

Heavenly Homes was established by the need for providing extra ordinary Client oriented services in our Real Estate Industry. The need to give that extra care to the customers needs in order to revive their faith in this industry completely. Our Core Goal is to be a market leader for providing the best-enhanced realty services, develop new relationships and increase profitability.

Our Director's vast experience of over 15 years in the banking Industry, with various senior roles as Head Sales, and Mortgages for major consumer products in the Retail sector, this has provided him the deep knowledge and skills to incorporate work ethics and Integrity with the Real Estate Sector. Given the delicate nature of the bond between the client and Agent, it is highly required in this day and age. The fact that the Client should have the utmost faith in the Agency. Therefore it becomes the duty of the Agent to give his best and ensure profitability for the client as well the Agency.

Heavenly Homes has been established as a real estate company in Dubai, UAE. Since 2014 and duly Registered with the Real Estate Regulatory Authority. However the director has been involved in the Industry since 2005, with personal investments of over 7 million AED.

There is a great need for certified agents to deal with Banks, that is where we handpick the best available candidates, who can portray a clear picture our work ethics to the client. In addition to real estate investments, the company has invested portions of its assets in the purchase and sale of properties, It has also invested in International Projects.

COMPANY STRATEGY

To be a Leader in Real Estate Industry by providing Quality services that exceeds the expectation of our esteemed customers.

CORE VALUES

We believe in treating our customers with Respect and Faith, we grow through, creativity, invention and innovation. We integrate Honesty, Integrity and Business ethics into all aspects of our business functioning.

GOALS

Expansion in the field of property management and develop a strong base of key customers in order to provide a one stop shop for their entire property needs. Increase the assets and investments of the company.
نوع العقار

شقة

نوع العرض

للبيع

الرقم المرجعي

بيوت - 834-Ap-S-0305

العقار

قيد الإنشاء

التأثيث

المفروشة

تاريخ الإضافة

سبتمبر 21, 2020
الموقع والأماكن القريبة
البحث الشائع
*يتم احتساب هذا البحث الشائع باستخدام خوارزمية عقارية استناداّ إلى أسعار العقارات المعلَنَة على بيوت
**يستند البحث الشائع إلى البحوث التي قام بها مستخدمي بيوت خلال آخر 3 شهور
RERA# 15231
DED# 710499
رقم التصريح# 0098776654
وكيل العقار:
Heavenly Homes Real Estate Broker
عرض جميع العقارات