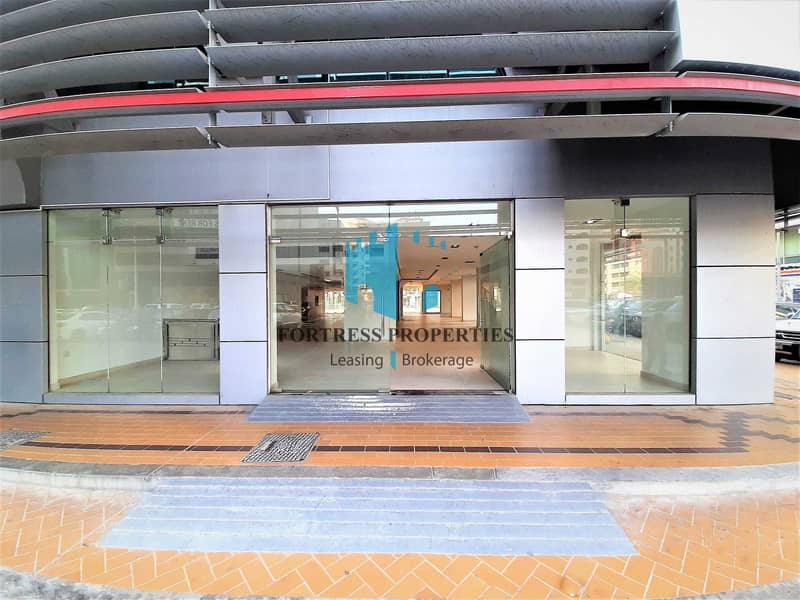 Various SHOP in the Heart of Electra Street with Obtainable Sizes
FORTRESS PROPERTIES PRESENT YOU WITH THIS HIGHLY SOUGHT-AFTER SHOPS SPACE IN THE HEART OF ABU DHABI, PERFECT FOR POP-UP SET UP FOR MINI SUPERMARKETS, TRADING COMPANY, RESTAURANTS, RETAIL SHOP AND MANY MORE!!

This unit space is situated into different divisions. It is a space with different total square footage; this one-of-a-kind venue is perfect for restaurants, mini supermarkets, trading/typing center, retail shop and everything in between. The space features different sizes which will suit with the type of business you are planning to open. The space is available to rent annually or long term. The interiors are industrial chic with a contemporary edge. The walls are textured hues of natural white paint with accents of ceramic flooring. The space layout with Ground Floor where it can be setup for any showcase of your products.  The building is so extremely well secured and has a features tons of glass that allows it to be flooded with natural light. Located on a busy corner of the city.

Images are used for illustrative purpose only. Actual layouts and designs may vary.

SUMMARY OF FEATURES :

SHOP 1 - 105 SQM @ 2500 per sqm (Rented)
SHOP 2 - 109 SQM @ 2500 per sqm (Rented)
SHOP 3 - 81 SQM @ 2500 per sqm (Rented)
SHOP 4 - 77 SQM @ 2500 per sqm (Rented)
SHOP 5 - 105 SQM @ 2500 per sqm (Located on the side)
SHOP 6 - 122 SQM @ 2500 per sqm (Backside Corner unit)
SHOP 7 - 84 SQM @ 2500 per sqm (Rented)
Ideal business for Restaurants, Mini Supermarket, Typing Center, Coffee/Milk Tea Shop & many more
Wide Glass Frontage
Security Staff
24/7 CCTV Security
Centrally Air-Conditioned
Central Heating
Electricity Backup
Storage Areas
Waste Disposal
Maintenance Staff
Public/Easy Access Parking
PAYMENTS :
Negotiating can be overwhelming when trying to find your own Showroom for Lease. But dont get discouraged, get representation on this listing from our expert brokers and we will help to negotiate deal terms for a strong initial lease and options to renew. The rental space amount of this showroom is AED 2,500 per sqm / annually up to Three (3) payments or cheques. Additional fees of 5% of the annual rent for the security deposit and five percent (5%) for the agency fee on the first rental amount. Schedule your private viewing for FREE and let our expert agents help you!

VICINITY :
Stretched along Sheikh Zayed the First Street, Electra Street occupies a central location in the emirate. Known to be one of the busiest areas in the capital, Electra Street is a street that never sleeps. With a number of retail spaces, shops and offices lined up along the street, it is a busy commercial area. Like any other region of Abu Dhabi, there are several mosques in Electra Street. There are various options of medical facilities near Electra Street. When it comes to grocery shopping, the residents head out towards LuLu Express and Al Safa Supermarket located on Hamdan Bin Mohammed Street only 5-minutes away. Foodies shouldnt worry at all as Electra Street is loaded with various eateries and restaurants. The unspoiled beach of Abu Dhabi is at a short drive distance from the residential community of Electra Street,so you can expect majestic views from the windows and balconies. Electra Park,the absolute charm of the locality attracts families and youngsters alike. A huge grassy outdoor area with separate childrens play areas and basketball grounds. Many community events are often held in the park involving families from nearby communities.

ABOUT US FORTRESS :
Based in Abu Dhabi FORTRESS PROPERTIES BROKERAGE is a leading real estate brokerage dedicated to empowering consumers with data, inspiration and knowledge around the place they call home. The FORTRESS extends its services across all prominent urban and suburban areas of ABU DHABI including Al Reem Island, Saadiyat Island, Tourist Club Area (TCA), Al Khalidiyah, Al Wahdah, Corniche Area, Al Muroor, Airport Street,Al Karamah, Corniche Road, Electra Street, Hamdan Street, Defence Street,Al Salam Street. Our repeat customers say everything!
The FORTRESS team is hired from all over the world with the ability to speak all major languages with an extensive knowledge of all areas in ABUDHABI. We welcome you to list your wonderful properties with FORTRESS to find suitable and potential client.
نوع العقار

محل تجاري

نوع العرض

للايجار

الرقم المرجعي

بيوت - 1389-Sr-R-0269

تاريخ الإضافة

سبتمبر 8, 2020
المزايا والخدمات
نظام كهرباء احتياطي للطوارئ
الموقع والأماكن القريبة
حاسبة الأقساط
قسّط مبلغ الإيجار السنوي على 12 دفعة ميسرة
الإيجار السنوي
درهم 200,000
درهم 1,500,000
القسط الشهري
هذه الدفعات الشهرية هي مجرد معدلات مرجعية. تطبق الشروط والأحكام
اكتشف المزيد على
fintel.ae
تنويه: هذه الخدمة مقدمة من قبل طرف ثالث وموقع بيوت غير مسؤول عن أي ناتج عن هذه الاتفاقية
هذا العقار لم يعد متوفرا بعد الآن