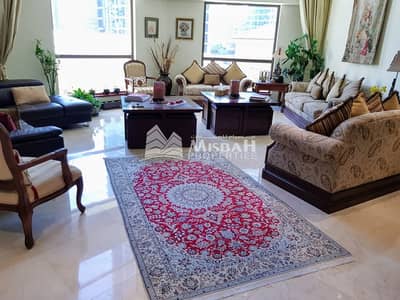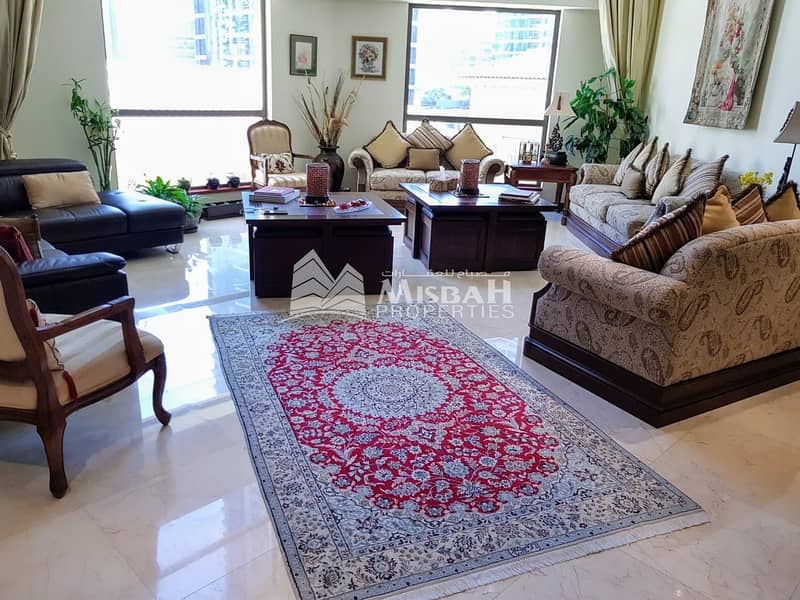 Modern Style Spacious Fully Furnished 4 bedroom, Study room, Maid room, Full Marina View Duplex Apt in JBR
Fully Furnished Modern Style 4 Bedroom -4,440 Sq ft- Duplex Apartment with own Elevator with Study room, Maids Room , Laundry and Storage room, 6 Washrooms,2 Parking with full Marina View in JBR for an Amazing price of AED 199,900 annual Rent.

Property Description:

*While Entering the first thing you see is the Luxury Furnished Living Room with beautiful Shandalia along with Big Dinning Table and Balcony with Marina View.

*The Right Side of the Living Room will guide you to the Closed Kitchen Built in Italian Style, full Kitchen Appliances and Maids room with attached Washroom, Laundry room, Storage Room.

*Opposite side of the Living Room there is one Bedroom with attached washroom and Balcony.

* In the Living room has the Stair case it will take you to the 3 Master Bedrooms plus Study Room. One of the Master Bedroom has the Jacuzzi. There is also small corridor with comfortable Chair.

Price Details:
Annual Rent Aed 199,900- 2 Cheque Payment

Security Deposit-10%

Commission-5% with VAT

For More Details call/ Watsapp-

Visit our Website: www. misbahproperties. ae

Jumeirah Beach Residence is a well-planned community comprising of 36 luxuriously designed residential towers. The apartments, in this Dubai property, are well facilitated with the latest contemporary facilities. It is high standard Dubai living area. all the necessary thing available in to this community like Shopping mall, Beach, Restaurant, GYM and Dubai Marina walk.

Misbah Properties, established under Misbah Group, specializes in a full spectrum of real estate services, including the brokerage of premium residential properties and commercial real estate. We strive to provide dedicated and bespoke services to our clients, while still maintaining durable and trusting partnerships with our clients. From experienced investors to first-time rental clients, we offer professional and expert solutions that meet our clients needs.


مفروشة بالكامل على الطراز الحديث 4bhk - 3600 قدم مربع-شقة دوبلكس مع مصعد خاص مع غرفة الدراسة ، غرفة الخادمات ، غرفة الغسيل والتخزين ، 6 دورات المياه ، 2 وقوف السيارات مع إطلالة كاملة على مارينا في جميرا بيتش ريزيدنس بسعر مذهل من 210 ، 000 درهم الإيجار السنوي.


وصف العقار:
* أثناء دخول أول شيء تراه هو غرفة المعيشة المفروشة الفاخرة مع شانداليا الجميلة جنبا إلى جنب مع طاولة طعام كبيرة وشرفة مطلة على مارينا.
* الجانب الأيمن من غرفة المعيشة سوف يرشدك إلى المطبخ المغلق المبني على الطراز الإيطالي ، وأدوات المطبخ الكاملة وغرفة الخادمات مع الحمام المرفق ، وغرفة الغسيل ، وغرفة التخزين.
* الجانب الآخر من غرفة المعيشة هناك غرفة نوم واحدة مع الحمام المرفقة وشرفة.
* في غرفة المعيشة وقد درج وسوف يأخذك إلى 3 غرف نوم رئيسية بالإضافة إلى غرفة الدراسة. واحدة من غرفة النوم الرئيسية لديها جاكوزي. هناك أيضا ممر صغير مع كرسي مريح.


تفاصيل السعر:
إيجار سنوي 210,000 درهم-2 شيك دفع
وديعة تأمين-10%
عمولة 5% مع ضريبة القيمة المضافة
لمزيد من التفاصيل اتصل / Watsapp -
زيارة موقعنا Website: www. misbahproperties. ae


جميرا بيتش ريزيدنس هو مجتمع مخطط جيدا يتكون من 36 برجا سكنيا مصمما بشكل فاخر. الشقق ، في هذا العقار في دبي ، يسهل بشكل جيد مع أحدث المرافق المعاصرة. إنها منطقة معيشة عالية المستوى في دبي. كل ما هو ضروري متاح في هذا المجتمع مثل مركز التسوق والشاطئ والمطعم وصالة الألعاب الرياضية وممر مرسى دبي.


شركة مصباح العقارية ، التي تأسست في إطار مجموعة مصباح ، متخصصة في مجموعة كاملة من الخدمات العقارية ، بما في ذلك الوساطة في العقارات السكنية الممتازة والعقارات التجارية. نحن نسعى جاهدين لتوفير خدمات مخصصة ومفصلة لعملائنا ، مع الحفاظ على شراكات دائمة وثقة مع عملائنا. من المستثمرين ذوي الخبرة لعملاء تأجير لأول مرة ، ونحن نقدم الحلول المهنية والخبراء التي تلبي احتياجات عملائنا.
نوع العقار

شقة

نوع العرض

للايجار

الرقم المرجعي

بيوت - mp-kt-du-200
RERA# 16018
DED# 721740
رقم التصريح# 1080880887
وكيل العقار:
Kidist Tesfaye
عرض جميع العقارات
هذا العقار لم يعد متوفرا بعد الآن