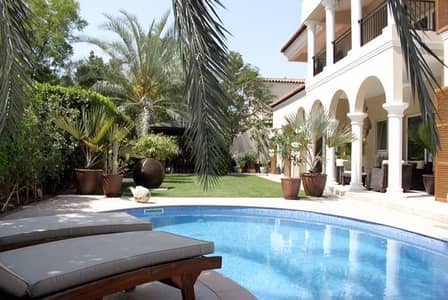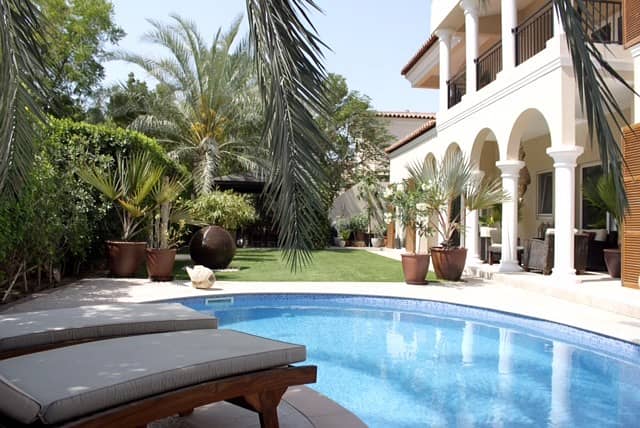 منطقة فلل عائلية، جرين كوميونيتي الشرق، جرين كوميونيتي، دبي
التفاصيل
نوع العقار

فیلا

السعر

درهم230,000

غرف النوم

5

الحمامات

5

المساحة

5,383 قدم مربع

نوع العرض

للايجار

الموقع

منطقة فلل عائلية، جرين كوميونيتي الشرق، جرين كوميونيتي، دبي

الرقم المرجعي

بيوت - GCER 017
وصف العقار
This is truly. . . " A Place you can call home . . ". It need to be seen . . . Available from 1st October 2020

* Exceptional, elegant Family home in the heart of the most sought after Green Community EAST in Dubai Investment Park. If location is everything, you do not need to look any further.

* Located in the heart of the community with lovely matured plantation in and around the villa - very bright and light home and also the most popular style with the wooden window shutters and the covered terrace on the first floor. Various outside sitting corners created with a lovely Pergola and private swimming pool in a beautiful creative garden where the sound of birds is common and part of the daily routine.

* Four en suite bedrooms on upper level with another downstairs Office or bedroom with Upgraded guest bathroom. Large beautiful UPGRADED kitchen with fully fitted appliances and spacious breakfast or family room attached. High quality Upgraded floors throughout the villa. Large sitting and dining areas with stunning views on the garden.

* Outside is the double garage, maid room with bathroom, store room, pump room and laundry room. Many open spaces around the villa for children to play away from the roads - this is the ideal place for your family.

* Many recreational facilities within walking distance and The Market, The Courtyard Marriott Hotel and various Schools and Restaurants in close proximity. Green Community is the hidden gem in Dubai

Only 10 minutes from Ibn Battutta, 25 minutes from Mall of the Emirates and 45 minutes from the Airport . . this is The Place to Be. .

This is a "must see" property before you sign for any other Family villa in The Green Community. Without a doubt one of the best, if not the very best Property in Green Community on the market today. Do not miss this opportunity. Phone Susan today to arrange a Viewing . Available from middle September 2020



Green Community East is the original and most sought after residential community in Dubai. Green Community East in DIP is a Lease Hold Development developed by Properties Investment LLC and build between landscaped gardens and cobbled roads.
The ideal family destination for a comfortable and affordable lifestyle … a Place you can call your home …. One of the most well-planned communities in Dubai

* Secure Gated community with Tennis courts, Basketball courts, Swimming Pools with Gym rooms, Play areas for children and many lush green walking & cycling paths.

Wide range of Townhouses (3-Bed plus study), Family villas (5-Bed) and Luxury villas (6-Bed), beautifully designed and build around a large Main Park with fountains and Gazebo's

* Low rise Garden Apartments, known as East Garden (most popular) and West Garden form part of Green Community East, or Phase 1

* Walking distance to The Market shopping Centre, The Courtyard Marriott Hotel and various Restaurants next to the Lake

* Supermarkets, Schools, Clinics and Hospitals are in close proximity

* Green Community is 15 Minutes from Ibn Battutta Mall, 30 minutes from Dubai Mall, 40 minutes from Dubai International Airport and 29 minutes from Al Maktoum International Airport. Newly built Metro is within months from opening and at the doorstep of Green Community East. A Welcome addition to DIP


If you are looking for a … Place You Can Call Your Home … in Green Community, Dubai Investment Park, then GC Homes Real Estate Broker is the ultimate choice where we provide you with a Buying, Selling or Renting experience and customer care like no where else.

GC Homes Real Estate Broker is founded in 2012 by Susan Brand and located in The Market Shopping Centre in the Green Community, Dubai Investment Park. We are in the middle of it all where we live and work in the Green Community only.

Our aim is to keep you as a customer for the future and ensuring comfort, trust and transparency throughout the transaction, whether you want to Buy a Family home, Sell your Property or Rent out your Investment. We consistently deliver and promise you an unforgettable experience, now and in the future

" Nothing makes us more proud than the quality of our work "

If you are looking for The Place To Be … phone Susan Brand at , or visit us at The Market, Ground floor, Green Community DIP

Live your dream …. This is The Place You can call Your Home


Susan Brand is specializing in the Green Community in Dubai Investment Park for the last 15 years and rank as Top Company Agent for 7 consecutive years for Better Homes. Started her own Company GC Homes Real Estate Broker 8 years ago with unprecedented success and Community knowledge, Susan is without a doubt your choice of Agent in The Green Community and Green Community West.
Unmatched desire for ascertaining and targeting individual client needs, building and strengthening relationships.

Susan is highly adaptable to challenging environments, with exceptional follow through to delivering of results.

Key real estate credentials in United Arab Emirates, South Africa and Australia.