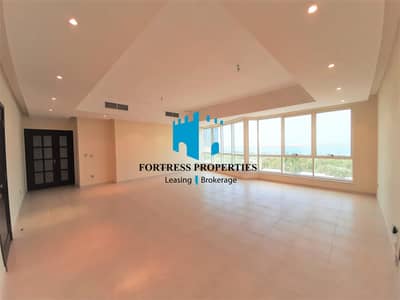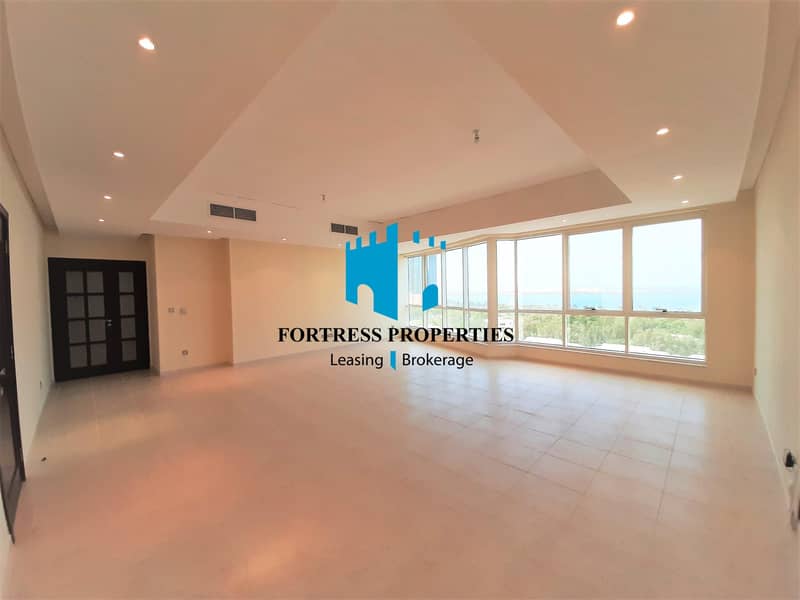 شقة في شارع المينا منطقة النادي السياحي 3 غرف 115000 درهم - 4519316
شارع المينا، منطقة النادي السياحي، أبوظبي
التفاصيل
نوع العقار

شقة

السعر

درهم115,000

غرف النوم

3

الحمامات

4

المساحة

2,400 قدم مربع

نوع العرض

للايجار

الموقع

شارع المينا، منطقة النادي السياحي، أبوظبي

الرقم المرجعي

بيوت - 1389-Ap-R-0127
وصف العقار
FORTRESS PROPERTIES PRESENT YOU A SPECTACULAR BREATH-TAKING CITY AND SEA VIEWS ACROSS MINA ROAD, ABU DHABI.

This oceanfront Three(3) Bedrooms apartment is a wonderful illustration of the riches lifestyle you can imagine. In a unique setting, the Panoramic Three (3) Bedrooms (1 Master & 2 Normal Rooms) afford a magical and incomparable view of the sea views. Let your eyes wander across the sea in one of the most beautiful bays in the world. Spacious and bright hall/living room, this category of room satisfies all the expectations one might have of a luxurious experience. The interior of the magnificent kitchen was inspired with a unique and modern set up. This apartment is perfectly design with Four(4) Bathrooms, blend with a natural color ceramic & granite tiles. Find your personal escape at home beside stunning swimming pools and sauna/steam. Experience your very own oasis surrounded by lavish landscaped courtyards, with indoor/outdoor entertainment seating. By day, experience the breath taking unobstructed views stretching from the ocean, or watch the beauty of the Mina Road line light up by night. Start or end your day with a workout in the full-size of their GYM. Enjoy being close to a variety of shops, local schools, enticing restaurants, and recreational attractions when you live at this lovable apartment without any problem to your vehicle parking. . . .

SUMMARY OF FEATURES :

Three (3) Bedrooms (1 Master & 2 Normal Rooms)
Four (4) Bathrooms (2 Full Washrooms, 1 Standing Shower & 1 Half Washroom)
Covered Parking
Maidsroom with attached bathroom
Kids Play Area
Gym or Health Club
Jacuzzi
Sauna
Steam Room
Swimming Pool
Laundry Room
Service Elevators
Security Staff
24/7 CCTV Security
Centrally Air-Conditioned
Electricity Backup
Storage Areas
Waste Disposal
Maintenance Staff

PAYMENTS :

Imagine all the elements of comfort and convenience lifestyle bringing you this apartment the rental amount is 115,000 AED per year for FOUR (4) payments or cheques. Additional fees of 5,750 AED for the security deposit, 2,875 AED for management fees and five percent (5%) for the agency fee on the first rental amount. Schedule your private viewing for FREE and let our expert agents help you! Please contact us at
or send us email at fortress.


VICINITY :

Home to the Zayed Port, Al Mina is just east of Al Danah and Zahiyah (previously known as Tourist Club Area). Part of Al Mina is connected to the main island of Abu Dhabi, while a large chunk of it extends outwards,giving the impression that it is an island. However, nearly 90 percent of its outer borders are surrounded by the ocean, so it is nothing short of an island community. To the west of Al Mina is Al Lulu Island and to its east is Saadiyat Island. This is a well-developed community which has apartments, villas and offices for rent.

A wide selection of apartments, villas and offices for rent.
Home to Zayed Port, Dhow Harbour and New Mina Port.
A hub for maritime and commercial activities.
Close to Lulu Island, Saadiyat Island and Al Zahiyah

ABOUT US FORTRESS :

Based in Abu Dhabi FORTRESS PROPERTIES BROKERAGE is a leading real estate brokerage dedicated to empowering consumers with data, inspiration and knowledge around the place they call home. The FORTRESS extends its services across all prominent urban and suburban areas of ABU DHABI including Al Reem Island, Saadiyat Island, Tourist Club Area(TCA), Al Khalidiyah, Al Wahdah, Corniche Area, Al Muroor, Airport Street,Al Karamah, Corniche Road, Electra Street, Hamdan Street, Defence Street,Al Salam Street. Our repeat customers say everything!

The FORTRESS team is hired from all over the world with the ability to speak all major languages with an extensive knowledge of all areas in ABUDHABI. We welcome you to list your wonderful properties with FORTRESS to find suitable and potential client.