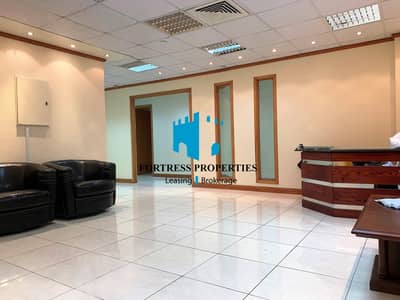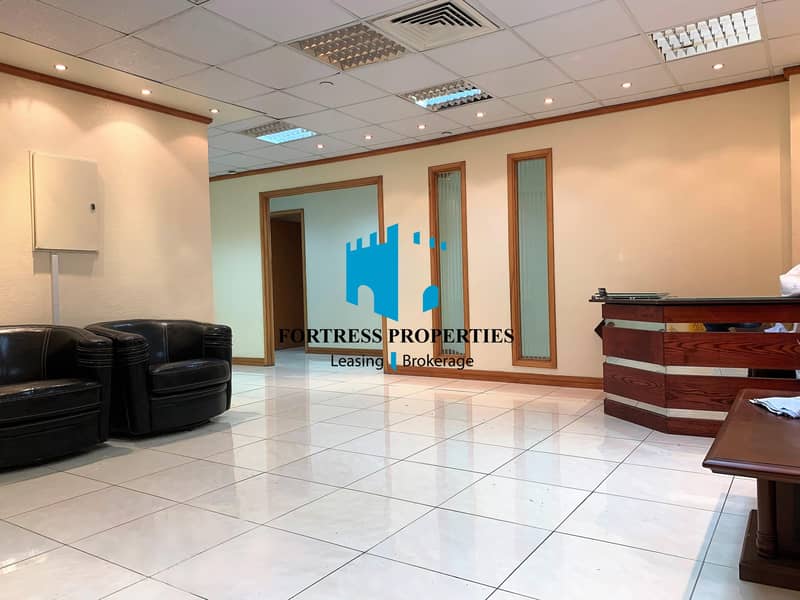 مکتب في شارع حمدان 105000 درهم - 4438746
شارع حمدان، أبوظبي
التفاصيل
نوع العقار

مکتب

السعر

درهم105,000

غرف النوم

-

الحمامات

-

المساحة

2,206 قدم مربع

نوع العرض

للايجار

الموقع

شارع حمدان، أبوظبي

الرقم المرجعي

بيوت - 1389-Of-R-0032
وصف العقار
FORTRESS PROPERTIES present this 2,206 sq ft fully furnished office located in the heart of Downtown Abu Dhabi amounting 105,000 AED per annum. This calm and relaxing area is meticulously design for businesses looking to find flexible and affordable offices. Save on all your expenses with easy monthly payments giving you access to a truly accessible office within a friendly community.

This office is ideal between 2 to 4 people and comes fully furnished with modern and trendy mahogany furniture. Fully air-conditioned, the sleek and neutral interior finishes are of the highest standard. Tenants will also get access to spacious lounge area which can be set up as your front reception area, a telephone room, and exclusively pantry area for lunch/break out beyond just the private office itself.

FEATURES SUMMARY :

2,206 sq ft
Fully Office Furniture's
Spacious Lounge Area
Exclusive Pantry Area
Office Bathroom
Safety System (Fire Alarms, Smoke Detectors, Automatic Sprinkler System Emergency Lighting)
Central Air-Con
Electricity Backup
Storage Areas
Service Elevators
Waste Disposal
Maintenance Staff
Broadband Internet
Public parking
24/7 Security Area

PAYMENTS :

A flexible work space design of 2,206 sq ft, can start up your own business/office and can be yours for 105,000 AED per annum, payable via Three (3) Payments or Cheques, Moreover five percent (5%) agency fees will be applied for first Rental amount. Schedule your private viewing for FREE and let our expert agents help you! Please contact us at
or send us email at fortress.



VICINITY :

A 4km stretch in the heart of the capital city, Hamdan Street is one of the oldest areas in Abu Dhabi, known for its retail hubs, commercial buildings and gleaming apartment complexes. A consistent favorite with Abu Dhabi renters,the Hamdan Street apartments came in the one of the top spot in Abu Dhabi property ranking Running parallel to the Corniche road in the capital, Hamdan Street is home to the oldest mall in Abu Dhabi, Hamdan Centre. With its wide selection of eateries, hotels and leisure activities, its easy to see why the area has remained a firm favorite with the citys renters. This area guide delves into the details of what living in Hamdan Street Abu Dhabi is all about.

Stretches from Al Hosn to Al Zahiyah, parallel to Abu Dhabi Corniche
Home to Abu Dhabis oldest mall Hamdan Centre or as it is commonly referred: Hamdan Shopping Centre
Known for apartment complexes, no villas in the area
Close to Marina Mall, World Trade Centre Mall, Qasr al-Hosn
Home to some of the oldest gold stores in Abu Dhabi
In the heart of the city

ABOUT US FORTRESS PROPERTIES :

Based in Abu Dhabi FORTRESS PROPERTIES BROKERAGE is a leading real estate brokerage dedicated to empowering consumers with data, inspiration and knowledge around the place they call home. The FORTRESS extends its services across all prominent urban and suburban areas of ABU DHABI including Al Reem Island, Saadiyat Island, Tourist Club Area(TCA), Al Khalidiyah, Al Wahdah, Corniche Area, Al Muroor, Airport Street,Al Karamah, Corniche Road, Electra Street, Hamdan Street, Defence Street,Al Salam Street. Our repeat customers say everything!

The FORTRESS team is hired from all over the world with the ability to speak all major languages with an extensive knowledge of all areas in ABUDHABI. We welcome you to list your wonderful properties with FORTRESSto find suitable and potential client.
حاسبة تكلفة التشطيب
احسب تكلفة المشروع
يٌمكنك السداد على مدار سنتين كحد أقصى من خلال حلول السداد المتوفرة عن طريق Contractors Direct مباشرة.