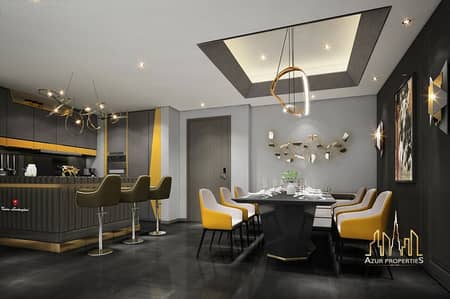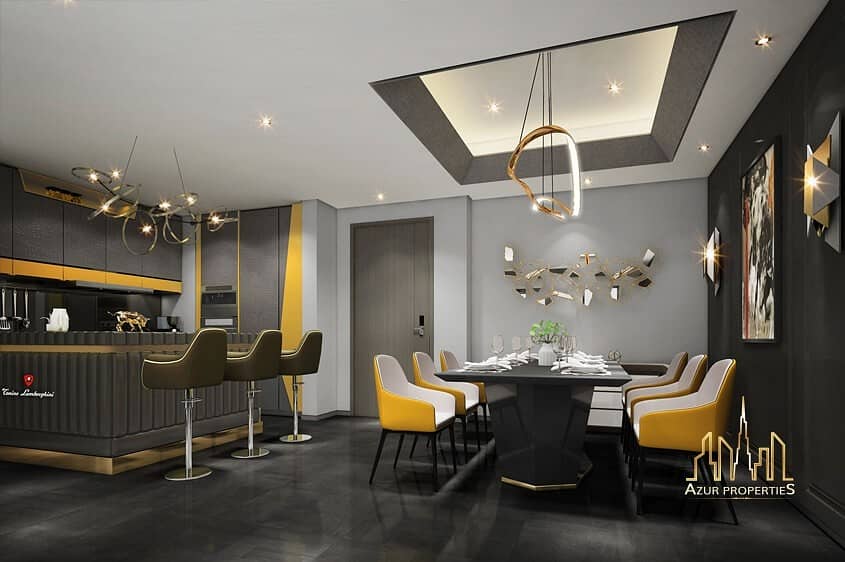 مساكن تونينو لامبورغيني، ند الشبا 1، ند الشبا، دبي
التفاصيل
نوع العقار

شقة

السعر

1,845,422   درهم

غرف النوم

2

الحمامات

2

المساحة

1,190 قدم مربع

نوع العرض

للبيع

الموقع

مساكن تونينو لامبورغيني، ند الشبا 1، ند الشبا، دبي

الرقم المرجعي

بيوت - 384-Ap-S-1818
وصف العقار
This new project offer a A forward-thinking community with a communication and infrastructure spine that embraces cutting-edge technology, designed around high-speed digital networks,providing residences and owners with access to retail, F&B,facilities, lifestyle services, property management through our very own Tonino Lamborghini Residences Dubai mobile application.

Payment Plan :

Pay 5% on booking.
25% in 45 days of booking or in 5 installment for 7 months.
70% on completion.


Unit Details:

2 bedroom A master bedroom with en-suite bathroom. A common bathroom and a toilet.
Laundry room and store room
Balcony attached connected from all bedrooms and living room
Open type kitchen adding a spacious looks in the apartment
With a size of 1,191 sqft.
Selling price of 1,845,422



Community Features :

Private Theater.
Restaurants & Cafes.
Retail Outlets.
Smart Residence.
Day Care Center.
Gaming Center.
Fitness Center.
Retail Outlets.
Outdoor amphitheater for
public performance.
Jogging and Cycling track.
General Features :
Gymnasium
Swimming Pools
Podium Parking
Private PO Box
Outdoor seating areas and
pedestrian walkways
Kids play area
Barbecue Areas
Tonino Lamborghini Residence Dubai is full luxury branded smart community, located over 40 hectares in the heart of Dubai, Meydan.
Residential oasis with easy connection to the heart of Dubai, Tonino Lamborghini Residences is an urban masterpiece of smart technology, contemporary design and lush green landscapes. And with advanced home automation, smart services and total climate control, residents enjoy unmatched comfort and convenience, all year round.

COMMUNITY
Integrated communal with shaded and cooled areas and climate-controlled pathways allow for 365 days of social and family life.

CONNECTIVITY
Easy access to the heart of Dubai via the new Nad Al Sheba road infrastructure.

COMFORT
Top-tier quality and luxury engineered into every detail, from materials, fittings and finishes to space-design, ventilation, automation and security.

CONVENIENCE
Future-ready infrastructure, amenities and convenient and advanced services for both residents and investors.

For more details, please call / whatsapp O5O9O26757

Azur Properties matches the unique blend of residential and commercial properties that characterize Dubai's city fringe with our extensive database of clients. Our system integrates everything, from straight sales and leasing, to financial collection services, to tenant management and integrated marketing campaigns. AZUR Properties is one of Dubai's leading Property Investment and Asset Managers. Under the strategic management of the holding in Dubai. Through this, Azur Properties is able to secure its long term local presence in the key markets of the future. Azur Properties directly deals with owners, sellers and buyers. As all the properties listed under Azur Properties is all from direct owners. Azur Properties has a strong pipeline of present and future projects and creating opportunities for real estate investors and residents.
حاسبة التمويل العقاري
قم بحساب قيمة القسط الشهري لهذا العقار
إجمالي مبلغ القرض
درهم
2,021,241
هذا العقار لم يعد متوفرا بعد الآن